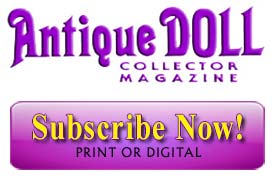 Subscribe Now | Current Issue | Events | Back Issues | Articles | Patterns | Ad Rates | Advertisers | Contact Us | Home
Complete Index of Antique DOLL Collector Magazines
Your guide to feature articles dating from Volume 1, Number 1, November/December 1997 through our current issue.
(Note to our readers: in some articles that cover a broad array of subjects, we have cited the entire article rather than specific pages.)

Searching for a particular subject?
Type Control + F keys at the same time to "find" a word on this page.
Click "next" for additional references.
Command + F for us Mac users.
----------------------------------------------------------------------------------------------
- A -
Abby Cady
Oct. 2003, Vol. 6 No. 9, 44-46
Aboriginal Dolls
The Cloth Dolls of Sarah Ellen Midgley, Jan. 2007, Vol. 9 No. 12, 53-56
Ackley, Edith Flack
Dolls to Make For Fun and Profit, June 2006, Vol. 9 No. 5, 45-48
Accessories
Too Pretty To Toss! 19th Century Boxes as Antique Doll Props, August 2017, Volume 20, Number 7, 26-33
Advertising Dolls
Twinkie, An Advertising Doll, Feb. 2003, Vol. 6 No. 1, 54-55
Skookum, Nov. 2005, Vol. 8 No. 10, 57-59
Flicks Kids, Sept. 2006, Vol. 9 No. 8, 62-64
Uneeda Kid and Zu-Zu Kid, Feb. 2008, Vol. 11 No. 1, 45-48
Sunny Orange Maid, Dec. 2011, Vol. 14 No. 11, 43-44
Rare Advertising Dolls, April 2013, Vol. 16 No. 3, 49
Clicquot, Sept. 2013, Vol. 16 No. 8, 42-45
Alabama Babies
April 2001, Vol. 4 No. 3, 20-24
June 2002, Vol. 5 No. 5, 45-49
July 2003, Vol. 6 No. 6, 25-26
Everything But Bisque, UFDC Exhibit, Jan. 2004, Vol. 6 No. 12, 35-40, 64-66
Two Different Worlds (Theriault's) March 2007, Vol. 10, No. 2, 39-43
Alexander
Madame Alexander's Little Mannequin, Wendy Ann, April 2002, Vol. 5 No. 3, 41-43
UFDC Special Exhibit, April 2003, Vol. 6 No. 3, 42-46
Classic Lissy, April 2006, Vol. 9 No. 3, 63-65
My Trip Down Memory Lane with Cissy, May 2007, Vol. 10 No. 4, 37-41
Dean's Dolls, November 2016, Volume 19, Number 10, 52-58
Alice in Wonderland
Sept. 2013, Vol. 16 No. 8, 33-39
All Bisques
Petite Bebes and All Bisques, Nov./Dec. 1998, Vol. 2 No. 1, 49-51
German Fish Tank Fantasies, April 1999, Vol. 2 No. 4, 39-41
Good Things in Small Packages, Oct. 2000, Vol. 3 No. 7, 41-44
NADDA All Bisque Exhibit, Feb. 2001, Vol. 4 No. 1, 51-59
Googly-Eyed Side-Glancing Dolls, Nov. 2003, Vol. 6 No. 10, 47-50
Small Perfections, Jan. 2004, Vol. 6 No. 12, 42-44
A Doll with a Difference, May 2005, Vol. 8 No. 4, 51-54
Tiny Treasures and Miniature Marvels, Nov. 2005, Vol. 8 No. 10, 41-45
Bisque Sisters by A. W. Fr. Kister, August 2006, Vol. 9 No. 7, 34-37
Images of Childhood, Sept. 2006, Vol. 9 No. 8, 41-43
Petite Pets: Anthropomorphized All-Bisque Animals by Hertwig and Company, April 2007, Volume 10, Number 3, 59-62
The Biggest of the All-Bisques, Dec. 2008, Vol. 11 No. 11, 27-32
Galluba and Hoffman, Feb. 2010, Vol. 13 No. 1, 47-49
German All Bisques Part I, July 2010, Vol. 13 No. 6, 53-59
German All Bisque Dolls Part II, Sept. 2010, Vol. 13 No. 8, 33-37, 47-51
Christmas Mischief, Dec. 2011, Vol. 14 No. 11, 54-55
A Mystery Doll by Kestner?, May 2012, Vol. 15 No. 4, 27-31
UFDC Exhibit "Small Delights, " May 2012, Vol. 15 No. 4, 53-54
Mignonnettes, Dec. 2012, Vol. 15 No. 11, 18-23
Mignonnettes, May 2013, Vol.16 No. 4, 27-30
Displaying Your Frozen Charlottes or What to do on a Cold Winter's Day!, September 2015, Volume 18, Number 8, 29-32
All Bisque Dolls of the 19th Century, Oct. 2015, Vol. 18, No. 9, 19-24
The Crocheted Critters of Carl Horn Nachf and Hertwig and Company, February 2016, Volume 19, Number 1, 38-40
All Bisque Character Dolls of the Twentieth Century, May 2016, Volume 19, Number 4, 18-25
Twice as Nice, Galluba & Hofmann Double Bathing Beauties, September 2016, Volume 19, Number 8, 40-43
Rarely Found All Bisque Dolls of Color, February 2017, Volume 20 Number 1, 26-34
If Dolls Could Talk: An Investigation of Some Mysterious Friends, April 2017, Volume 20, Number 3
Toy Ahoy! Floating Bisque Novelties of the Early 1900s, April 2017, Volume 20, Number 3
The Endearing Faces of Gebr. Heubach All-Bisque Character Children, August 2017, Volume 20, Number 7, 40-44

Alma
Alma, An Italian Doll Company, July 2014, Vol. 17 No. 6, 30-35
Alsatian Dolls
July 2013, Vol. 16 No. 6, 33-40
Alt, Beck & Gottschalck
The Many Faces of ABG, Oct. 2005, Vol. 8 No. 9, 43-46
Animal Dolls, Dec. 2010, Vol. 13 No. 11, 28-31
The 900 Series, March 2013, Vol. 16 No. 2, 35-39
Amberg, Louis
Early Dolls of Louis Amberg, Oct. 2007, Vol. 10 No. 9, 35-38
An All American Girl, Feb. 2015, Vol. 18, No. 1, 40-43
American-Made Dolls (articles are listed in chronological order)
Shimmy Dancers of the Roaring Twenties, Jan./Feb. 1998, Vol. 1. No 2, 45-48
Copies from German Bisque Characters, July/Aug. 1999, Vol. 2 No. 6, 31-35
Fifty Years of American Composition Dolls, March 2001, Vol. 4 No. 2,
28-31, 58-61
Composition Shirley Temple, April 2001, Vol. 4 No. 3, 26-30
Phyllis May and Her Dollies, May 2001, Vol. 4 No. 4, 35-38
Ideal's Composition Dolls, July 2001, Vol. 4 No. 6, 50-53
A Mary Hoyer Treasure, August 2001, Vol. 4 No. 7, 35-40
Arranbee's Debu' Teen, Nov. 2001, Vol. 4 No. 10, 49-52
Horsman's Sweetheart, Dec. 2001, Vol. 4 No. 11, 44-47
Helen Fox Trowbridge, Feb. 2002, Vol. 5 No. 1, 36-39
Vogue's Early Dolls, March 2002, Vol. 5 No. 2, 48-51
Madame Alexander's Little Mannequin, Wendy Ann, April 2002,
Vol. 5 No. 3. 41-43
Cosmopolitan Ginger and Disney, May 2002, Vol. 5 No. 4, 48-49
Mme. Alexander Portrait Dolls, June 2002, Vol. 5 No. 5, 35-40
Ideal's Flexy Doll, Jan. 2003, Vol. 5 No. 12, 50-51
Twinkie, An Advertising Doll, Feb. 2003, Vol. 6 No. 1, 54-55
Freundlich Novelties, April 2003, Vol. 6 No. 3, 48-49
Papa Petrov's Papa-Mama Dolls, June 2003, Vol. 6 No. 5, 52-56
Miss Charming and Baby Charming, July 2003, Vol. 6 No. 6, 30-31
Cowboys and Indians, August 2003, Vol. 6 No. 7, 41-43
Billy and Ruth, America's Famous Toy Children, Sept. 2003,
Vol. 6 No. 8, 46-48
American Character Composition Dolls, Oct. 2003, Vol. 6 No. 9, 36-39
Effanbee's Clippo the Clown and his Pals, Dec. 2003, Vol. 6 No. 11, 33-36
The Dollspart Catalog, Feb. 2004, Vol. 7 No. 1, 30-31
Halcyon Hall: A School for Dolls, Feb. 2004, Vol. 7 No. 1, 42-44
Chantecler, The Rooster Doll, March 2004, Vol. 7 No. 2, 56-57
The Famlee Doll, May 2004, Vol. 7 No. 4, 40-43
Drink and Wet Babies, American Character's Toodles, June 2004,
Vol. 7 No. 5, 48-49
Composition Dolls of Child and Teen Stars, July 2004, Vol. 7 No. 6, 50-53
Effanbee's Anne Shirley, August 2004, Vol. 7 No. 7, 50-53
A Visit Back in Time, Sept. 2004, Vol. 7 No. 8, 30-33
An Early Mama Doll, Nov. 2004, Vol. 7 No. 10, 40-41
Montgomery Ward's Pla-Mate Dolls (Eugenia Doll Co.), Dec. 2004,
Vol. 7 No. 11, 60-61
Horsman's Baby Buttercup, Feb. 2005, Vol. 8 No. 1, 37-39
Composition Dolls with Rubber Components, March 2005, Vol. 8 No. 2, 52-54
Additional Information on Montgomery Ward's Pla-Mate, April 2005,
Vol. 8 No. 3, 50-51
Composition Dolls Sold by The Elektra Toy and Novelty Co., June 2005,
Vol. 8 No. 5, 41-43
When is a Doll Considered Rare, and How Do We Preserve Her? August 2005, Vol. 8 No. 7, 47
Skookum, Nov. 2005, Vol. 8 No. 10, 57-59
American Copies of Heubach Dolls, Dec. 2005, Vol. 8 No. 11, 47-50
Waffles & Co., Aesop's Fables Comic Character Dolls, Jan. 2006,
Vol. 8 No. 12, 41-43
Unusual Early Horsman Dolls, March 2006, Vol. 9 No. 2, 31-35
Classic Lissy, April 2006, Vol. 9 No. 3, 63-65
Welcome to my Doll Room, May 2006, Vol. 9 No. 4, 42-45
The Composition Dolls of Jessie McCutcheon Raleigh, June 2006,
Vol. 9 No. 5, 31-37
Edith Flack Ackley - Dolls to Make For Fun and Profit, June 2006,
Vol. 9 No. 5, 45-48
Dolls in America, July 2006, Vol. 9 No. 6, 44-46
Skippy, August 2006, Vol. 9 No. 7, 42-45
Flicks Kids, Sept. 2006, Vol. 9 No. 8, 62-64
Pat-O-Pat, Nov. 2006, Vol. 9 No. 10, 28-29
Fleischaker & Baum, Feb, 2007, Vol. 10 No. 1, 49-52
Patsykins, March 2006, Vol. 10 No. 2, 45-48
Flossie Flirt by Ideal, April 2007, Vol. 10 No. 3, 51-55
My Trip Down Memory Lane with Cissy, May 2007, Vol. 10 No. 4, 37-41
Effanbee, A Glamorous June Bride, June 2007, Vol. 10 No. 5, 37-41
Some New Finds, August 2007, Vol. 10 No. 7, 42-46
The Early Dolls of Louis Amberg, Oct. 2007, Vol. 10 No. 9, 35-38
Memories of Christmas Dolls, Dec. 2007, Vol. 10 No. 11, 42-43
Early Dolls by E. I . Horsman, April 2008, Vol. 11 No. 3, 41-43
Borgfeldt, June 2008, Vol. 11 No. 5, 41-41-46
Billiken Marks Centennial, July 2008, Vol. 11 No. 6, 37-40
Where is Rosabelle? August 2008, Vol. 11 No. 7, 53-56
More New Discoveries, Oct. 2008, Vol. 11 No. 9, 42-45
Peterkin, Dec. 2008, Vol. 11 No. 11, 43-45
How Rosabelle Was Found, Feb. 2009, Vol. 12 No. 1, 49-50
Pinocchio & Friends, April 2009, Vol. 12 No. 3, 37-38
Twee Deedle and Other Character Dolls, June 2009, Vol. 12 No. 5, 41-43
Effanbee's Honey, August 2009, Vol. 12 No. 7, 48-51
Unmarked Composition Dolls, Oct. 2009, Vol. 12 No. 9, 27-29
Advertising Dolls for Christmas During the 1920s and 30s, Dec. 2009, Vol. 12 No. 11, 27-29
Trion Toy Company, Feb, 2010, Vol. 13 No. 1, 41-43
More New Discoveries, April 2010, Vol. 13 No. 3, 53-56
Being A Doll Detective, June 2010, Vol. 13 No. 5, 37-40
Schiaparelli, July 2010, Vol. 13 No. 6, 32-37
Little Cherub by Harriet Flanders, August 2010, Vol. 13 No. 7, 46-48
Knickerbocker, The Bumsteads, Sept. 2010, Vol. 13 No. 8, 24-25
Attractive Hair Styles, Oct. 2010, Vol. 13 No. 9, 26-29
Collecting Shirley, Nov. 2010, Vol. 13 No. 10, 29-32
Rockwell, Grace Corry, Little Brother and Little Sister, Dec. 2010, Vol. 13 No. 11, 48-49
The Patsy Alice Mystery, Jan. 2011, Vol. 13 No. 12, 55-57
UFDC Special Exhibits, Jan. 2011, Vol. 13 No. 12, 58-59
California Bisque Doll Company, Feb. 2011, Vol. 14 No. 1, 35-39
Dorothy Dainty, Feb. 2011, Vol. 14 No. 1, 47-49
Colorful Composition Novelty Dolls, April 2011, Vol. 14 No. 3, 31-33
Swivel Dolls, June 2011, Vol. 14 No 5, 41-43
Coquette Cuties, June 2011, Vo. 14 No. 5, 48-52
Horsman's Raggedy Man, August 2011, Vol. 14 No. 7, 49-51
Effanbee's Popeye and Friends, Sept. 2011, Vol. 14 No. 8, 50-52
Composition Carnival Dolls, Oct. 2011, Vol. 14 No. 9, 53-59
Sunny Orange Maid, Dec. 2011, Vol. 14 No. 11, 43-44
Horsman's Patty Cake, Jan. 2012, Vol. 14 No. 12, 40-41
The 1940's Prosperous Times in the Doll Trade, Feb. 2012, Vol. 15 No. 1, 50-52
Jessie McCutcheon Raleigh, April 2012, Vol. 15 No. 3, 27-29
Rare Finds, Jun 2012, Vol. 15 No. 5, 49-53
Effanbee's Sweetie Pie and Tousle-Tot, August 2012, Vol. 15 No. 7, 46-49
Ernesto Peruggi, Sept. 2012, Vol. 15 No. 8, 35-38
Interesting New Discoveries, Oct. 2012, Vol. 15 No. 9, 39-41
American Character's Toni, Dec. 2012, Vol. 15 No. 11, 64-66
Dolls with Rubber Limbs, Feb. 2013, Vol. 16 No. 1, 28-31
Nancy Ann Style Show Dolls, Feb. 2013, Vol. 16, No. 1, 47-50
Flexy Dolls, March 2013, Vol. 16 No. 2, 41-43
Studying Dolls, Jun 2013, Vol. 16 No. 5, 44-46
Effanbee's Harmonica Joe, August 2013, Vol. 16, No. 7, 49-51
New Discoveries, Oct. 2013, Vol. 16 No. 9, 35-38
Hoseley Party Dolls, Nov. 2014, Vol. 17 No. 19, 28-30
An All American Girl from Louis Amberg, Feb. 2015, Vol. 18, No. 1, 40-43
Horsman, HEbee/SHEbee and the Elusive Charles Twelvetrees, March 2015, Vol. 18, No. 2, 32-35
A Visit to an Izannah Home, August 2015, Volume 18, Number 7, 43-48
From Rags to Riches, September 2015, Volume 18, Number 8, 21-27
Mysterious Monica, November 2015, Volume 18, Number 10, 29-32
Mary Hoyer Dolls, January 2016, Volume 18, Number 12, 34-38
American Women Dream in Cloth: Cottage Industry 1840-1930 - Part II, February 2016, Volume 19, Number 1, 42-47
Look what I can do Mommy! Mechanical Dolls of Composition, March 2016, Volume 19, Number 2, 46-52
The Story of Mary & Mary & the Indian Dolls, March 2016, Volume 19, Number 2, 54-57
Flossie Fisher's Own Doll, November 5, 2016, October 2016, Volume 19, Number 9, 56-58
Dean's Dolls, November 2016, Volume 19, Number 10, 52-58
A Whistle and a Shimmy; Clockwork Carnival Dolls of the 1920s, December 2016, Volume 19, Number 11, 43-47
More 1920s Carnival Dolls, March 2017, Volume 20, Number 2, 42-43
W.C.Fields, the Man and the Doll, March 2017, Volume 20, Number 2, 36-40
The Brits Wouldn't Do It - Elsie Krug's Edward & Wallis dolls, July 2017, Volume 20, Number 6, 57-60
Izannah Walker and Her Dolls, September 2017,Volume 20, Number 8, 22-34
Anili
A Celluloid Fantasy, Nov. 2003, Vol. 6 No. 10, 28-34
Animal Dolls
Dec. 2010, Vol. 13 No. 11, 28-31
A Doll's Best Friend, April 2018, Volume 21, Number 3, 48-51
Antique Doll & Toy Market
Antique Doll & Toy Market: August 28, July 2016, Volume 19, Number 6, 56
Aris, Virginia
The Princeton Doll and Toy Museum - A tribute to the late Virginia Aris, September 2017,Volume 20, Number 8, 60-61
Armand Marseille
Rare Character Children, May 2008, Vol. 11 No. 4, 19-24
Arnaud, Jean Louis Hubert
Additions to the Encyclopedia of French Dolls, May 2006, Vol. 9 No. 4, 33-36
Arranbee
Arranbee's Debu' Teen, Nov. 2001, Vol. 4 No. 10, 49-52
Artist, Doll
Collectibles: Sylvia Natterer Dolls, July 2017, Volume 20, Number 6, 12
Stella – A Conversation with Connie Lowe, October 2017, Volume 20, Number 9, 44-45
Asheville Doll Show
May 2017, Volume 20, Number 4, 51
Ateliers Artistiques Polonais
French Dolls from World War I, Jan. 2008, Vol. 10 No. 12, 41-47
Atlantique City
Dec. 2001, Vol. 4 No. 11, 59-60
May 2005, Vol. 8 No. 4, 58-59
Automata
Gaston Decamps Family, Oct. 2012, Vol. 15 No. 9, 21-23
What Henry Did Next: Henry Vichy (1866 - 1950), April 2015, Vol. 18, No. 3, 19-24
Auction Team Breker's May 20, 2017 sale of mechanical dolls and automata, May 2017, Volume 20, Number 4, 24-28
AUCTIONS
Alderfer's
Shirley Kasum, August 2003, Vol. 6 No. 7, 50-52
August 2011, Vol. 14 No. 7, 14
Auction Team Breker
The Gaston Decamps Family, Oct. 2012, Vol. 15 No. 9, 21-23
May 2013, Vol. 16 No. 4, 53
What Henry Did Next: Henry Vichy (1866 - 1950), April 2015, Vol. 18, No. 3, 19-24
Preview: Auction Team Breker May 21st, May 2016, Volume 19, Number 4, 10
"La Boutique Fantasque," Auction Team Breker, November 5, 2016, October 2016, Volume 19, Number 9, 22-25
Auction Team Breker's May 20, 2017 sale of mechanical dolls and automata, May 2017, Volume 20, Number 4, 24-28
Auction Team Breker Event, November 2017, Volume 20, Number 10, 18

Barrett
Washington Dolls' House & Toy Museum, May 2004, Vol. 7 No. 4, 19-22
Washington Dolls' House and Toy Museum, August 2004, Vol. 7 No. 7, 56-57
Chirico and Davanzo Collection, Nov. 2005, Vol. 8 No. 10, 19-21
Sunstein Collection, Nov. 2005, Vol. 8 No. 10, 28-33
Feb. 2006, Vol. 9 No. 1, 55-56
Mary Merritt Museum, Sept. 2006, Vol. 9 No. 8, 23-26
Mary Merritt Museum, Nov. 2006, Vol. 9 No. 10, 14, 58-59
Mary Merritt Museum, March 2007, Vol. 10, No. 2, 23-26
Mary Merritt Museum, May 2007, Vol. 10 No. 4, 66-68
Old Salem Toy Museum, Oct. 2010, Vol. 13 No. 9, 19-23
Bertoia
Dorothy Hertig Collection, May 2002, Vol. 5 No. 4, 18-19
Dorothy Hertig Collection, August 2002, Vol. 5 No. 7, 52-53
Alberta Darby Collection, March 2004, Vol. 7 No. 2, 60-61
Farago Collection, Oct. 2005, Vol. 8 No. 9, 18, 71
Oct. 2006, Vol. 9 No. 9, 66-67
Nov. 2007, Vol. 10 No. 10, 14
Bonhams
Rare K*R Character Dolls Sept. 2014. Vol. 17 No. 8, 21-23
Christie's South Kensington
Dingley Hall, August 2003, Vol. 6 No. 7, 26-30
Frasher's
June 2003, Vol. 6 No. 5, 18
Julia Roat Collection, Feb. 2004, Vol. 7 No. 1, 14-15
August 2005, Vol. 8 No. 7, 60
Nov. 2005, Vol. 8 No. 10, 66
208 Character Kestner, June 2006, Vol. 9 No. 5, 20-22
June 2007, Vol. 10 No. 5, 57
Dec. 2007, Vol. 10 No. 11, 71
Nov. 2008, Vol. 11 No. 10, 19-21
Jan. 2011, Vol. 13 No. 12, 12-13
July 2011, Vol. 14 No. 6, 50-51
Oct. 2011, Vol. 14 No 9, 14-15, 69-70
Oct. 2014, Vol. 17 No. 9, 18-20
Galerie De Chartres
Dina Vierny, March 2010, Vol. 13 No. 2, 54-55
Garth's
Virginia Coleman Collection, Oct. 2006, Vol. 9 No. 9, 65
James D. Julia
Schmidt Collection, Oct. 2003, Vol. 6 No. 9, 17
Schmidt Collection, Dec. 2003, Vol. 6 No. 11, 12
Nov. 2005, Vol. 8 No. 10, 62-63
June 2007, Vol. 10 No. 5, 58
Nov. 2007, Vol. 10 No. 10, 65
June 2014, Vol. 17 No. 5, 55-56
Ladenburger Spielzeugauktion
Ladenburger Spielzeugauktion Sells Doll and Toy Museum, September 2015, Volume 18, Number 8, 18-19
McMasters Harris
Kathryn Hill Collection, Oct. 2002, Vol. 5 No 9, 18-19
Nov. 2004, Vol. 7 No. 10, 14-15
Morphy's
October 2008, Vol. 11 No. 9, 20-23
Morphy Auctions' March Premier Toy Sales Event To Feature Outstanding Selections, March 2016, Volume 19, Number 2, 18-20
Rhoads
Dollhouse Dolls at Auction, May 2007, Vol. 10 No. 4, 18, 58
William Myers Collection, Oct. 2011, Vol. 14 No. 9, 70-71
Rhoads Preview, April 2016, Volume 19, Number 3, 58
Skinner's
Oct. 2000, Vol. 3 No. 7, 52
Joanna Ott Preview, March 2001, Vol. 4 No. 2, 54-56
Joanna Ott, July 2001, Vol. 4 No. 6, 60-61
Maureen Popp Collection at the Wenham, Dec. 2002, Vol. 5 No. 11, 52-53
Popp Collection, March 2003, Vol. 6 No. 2, 21-26
Popp Collection, June 2003, Vol. 6 No. 5, 58
Oct. 2005, Vol. 8 No. 9, 72
July 2006, Vol. 9 No. 6, 19
Dec. 2007, Vol. 10 No. 11, 72
Preview Richard Wright Collection, Sept. 2009, Vol. 12 No. 8, 19-24
The Richard Wright Collection, Nov. 2009, Vol. 12 No. 10, 35-37
Sotheby's London
Kendall Collection, November 1999, Vol. 2 No. 8, 62-64
Sweetbriar
May/June 1999, Vol. 2 No 5, 54, 60
Burlin Estate, May/June 2000, Vol. 3 No. 4, 53-54
Norma Darling, June 2001, Vol. 4 No. 5, 51-52
Preview Gertrude Long Collection, March 2003, Vol. 6 No. 2, 59
Theriault's
Doll Cirque, July/Aug. 1999, Vol. 2 No. 6, 58-61
Seeley Collection, May 2002, Vol. 5 No. 4, 12-14
Seeley, July 2002, Vol. 5 No. 6, 14
Naomi Bryant, Nov. 2002, Vol. 5 No 10, 14
Lady Dolls, Dec. 2002, Vol. 5 No. 11, 50-51
March 2003, Vol. 6 No. 2, 55-56
May 2003, Vol. 6 No. 4, 43-45
Peggy Lancaster, July 2003, Vol. 6 No. 6, 53-55
Jan. 2004, Vol. 6 No. 12, 46
Christian Bailly Automata, March 2004, Vol. 7 No. 2, 20-22
Kewpieana, Dec. 2004, Vol. 7 No. 11, 17-19
Seeley Collection, April 2005, Vol. 8 No. 3, 13, 54-55
Seeley Auction, June 2005, Vol. 8 No. 55, 12
Sept. 2005, Vol. 8 No. 8, 17
Living Dolls, 19th Century Automata, Sept. 2005, Vol. 8 No. 8, 45-49
Vaclav Sladky and the Vienna Doll Museum, Oct. 2005, Vol. 8 No. 9, 51-54
Memories of a Marriage, Nov. 2005, Vol. 8 No. 10, 49-53
Holt Collection, Nov. 2005, Vol. 8 No. 10, 64
Lucy Morgan, Dec. 2005, Vol. 8 No. 11, 21-25
The Long Life and Many Faces of the Character Doll, Jan. 2006,
Vol. 8 No. 12, 27-32
Lucy Morgan, Feb. 2006, Vol. 9 No. 1, 12-13
Whatever Became of . . . ? April 2006, Vol. 9 No. 3, 50-55
Lego Foundation Museum, May 2006, Vol. 9 No. 4, 19-22
Lego Foundation, July 2006, Vol. 9 No. 6, 59-61
Shirley Fischer Paper Doll Collection, Oct. 2006, Vol. 9 No. 9, 14-15
Vienna Doll Museum, Dec. 2006, Vol. 9 No. 11, 21-24
Vienna Doll Museum, Feb, 2007, Vol. 10 No. 1, 53
Two Different Worlds, March 2007, Vol. 10 No. 2, 39-43
Madame Peyt of Brussels, May 2007, Vol. 10 No. 4, 61-64
Carole Jean Stoessel Zvonar, July 2007, Vol. 10 No. 6, 14-15
Zvonar, Size Does Matter, July 2007, Vol. 10 No. 6, 25-28
July 2007, Vol. 10 No. 6
Zvonar, Sept. 2007, Vol. 10 No. 8, 57
Geri Baker, Dec. 2007, Vol. 10 No. 11, 21-24
Automata, Jan. 2008, Vol. 10 No. 12, 60-61
Ningyo Dolls and Continental Crib Figures, June 2008, Vol. 11 No. 5, 18, 55-56
Madalaine Selfridge Collection, Sept. 2008, Vol. 11 No. 8. 19-23
January 9-11 Newport Beach, CA, Dec. 2008, Vol. 11 No. 11. 20-24
Albert Marque and the Ballets Russes Connection, June 2009, Vol. 12 No. 5, 59-60
Preview: Buktas and Bryant Collections, Dec. 2009, Vol. 12 No. 11, 20-25, 74
June Ellen Lane, Dec. 2010, Vol. 13 No. 11, 18-21, 68
Jan. 2011, Vol. 13 No. 12, 64-65
July 2011, Vol.14 No. 6, 18-22
Candy Spelling, Nov. 2011, Vol. 14 No. 19, 18-21
Jan. 2012, Vol. 14 No. 12, 43-45
Spielzeugmuseum, Davos, Switzerland, July 2012, Vol. 15 No. 6, 19-22
Alexander Mystery Dolls, July 2012, Vol. 15 No. 6, 49
The Spielzeugmuseum of Davos, Switzerland, Sept. 2012, 48-49
Mignonnettes, Dec. 2012, Vol. 15 NO. 11, 18-23
Porcelain Half Dolls, Dec. 2012, Vol. 15 No. 11, 44-46
K*R 104, Jan. 2013, Vol. 15 No. 12, 58-59
Feb. 2013, Vol. 16 No. 1, 12-13
Estelle Johnston Collection, July 2013, Vol. 16 No. 6, 18-22
Blackler Collection, Sept. 2014, Vol. 17 No. 8, 30-33
The Rare 201 Jumeau Character, Nov. 2014, Vol. 17 No. 10, 18-21
Jan. 2015, Vol. 17 No. 12, 12-13
Theriault's to Present the World-Class Doll Collection of Berta Hackney at Auction, March 2015, Vol. 18, No. 2, 18-21
Theriault's to Present the World-Class Doll Collection of Berta Hackney at Auction, March 2015, Vol. 18, No. 2, 18-21
Among Friends... Theriault's presents the Welker Collection July 15 in Kansas City, MO, July 2015, Volume 18, Number 6, 22-25 and 65
Love, Shirley Temple: Theriault's July 14 in Kansas City, MO, July 2015, Volume 18, Number 6, 51-52
Theriault's Announces January 2016 Marquis Auctions, December 2015, Volume 18, Number 11, 18-21 and 64
Theriault's to Auction the Legendary Doll Collection of Ursula Brecht, July 26 in Washington D.C., July 2016, Volume 19, Number 6, 18-22
The Legendary Collection of Samy Odin's Musée de la Poupée – Auction on January 8, 2017, December 2016, Volume 19, Number 11, 14-18
Theriault's Auction, "I Only Wanted to Wonder", July 2017, Volume 20, Number 6, 20-24
Doll Collection of Lorna Lieberman to be Auctioned by Theriault's on Oct 28th 2017, October 2017, Volume 20, Number 9, 16-17
Theriault's Auction: Kaonis Brownies Collection, December 2017, Volume 20, Number 11, 24 and 26
Theriault's Auction Early Steiff Rarities, December 2017, Volume 20, Number 11, 10 and 12
Withington
Ravca, Bernard and Frances Collection, July 2004, Vol. 7 No. 6, 46-48
Withington Auction 2018 – The Farewell Tour!, April 2018, Volume 21, Number 3, 44-46
Averill
Georgene Averill, March 2001, Vol. 4 No. 2, 46-52
Cowboys and Indians, August 2003, Vol. 6 No. 7, 41-43
Averill's Wonder Dolls, Oct. 2006, Vol. 9 No. 9, 45-48
Colorful Composition Novelty Dolls, April 2011, Vol. 14 No. 3, 31-33
Animal Dolls, Dec. 2010, Vol. 13 No. 11, 28-31
Sis, A Cover Girl, May 2014, Vol. 17 No. 4, 41-42
Au Nain Bleu
Two Different Worlds, March 2007, Vol. 10 No. 2, 39-43
Automata
Theriault's Preview, Nov. 2007, Vol. 10 No. 10, 16
A Christmas Bazaar, Jan./Feb. 1998, Vol. 1. No 2, 23-26
March 1999, Vol. 2 No. 3, 37-41
Theriault's Preview Christian Bailly, March 2004, Vol. 7 No. 2, 20-22
Magical Musical Mechanicals, a UFDC Exhibit, March 2004, Vol. 7 No. 2, 38-43
Living Dolls, 19th Century Automata, Sept. 2005, Vol. 8 No. 8, 45-49
- B -
Babies
Infant Dolls, Collectibles and Traditions, April 2014, Vol. 17 No. 3, 38-43
Babykins
Putnam, Grace Storey, Jan. 2004, Vol. 6 No. 12, 22
Babyland Rag
May 2003, Vol. 6 No. 4, 55-57
Everything But Bisque, a UFDC Exhibit, Jan. 2004, Vol. 6 No. 12, 35-40, 64-66
Bambole Lena
Bambole Lena, in the Shadow of Lenci, July 2016, Volume 19, Number 6, 51-54
Barrois
A Barrois Enfantine: Her Story, September 2017,Volume 20, Number 8, 42-48
Bathing Beauties
Half Sisters, Jan./Feb. 1999, Vol. 2 No. 2, 32-34
Bisque Sisters by A. W. Fr. Kister, August 2006, Vol. 9 No. 7, 34-37
Twice as Nice, Galluba & Hofmann Double Bathing Beauties, September 2016, Volume 19, Number 8, 40-43
Bawo and Dotter
Bawo and Dotter Importers and Their Chinas, June 2005, Vol. 8 No. 5, 52-55
Bears
Steiff Teddies 1919-1940, Jan./Feb. 1999, Vol. 2 No. 2, 41-46
Bears at the Wenham, May/June 1999, Vol. 2 No. 5, 49-52
September 1999, Vol. 2 No 7, 45-48
The Early Years, Vol. 3 No. 3, 41-46, 58-60
Collectibles: Bear Essentials, March 2018, Volume 21, Number 2, 46
Bebes (also see individual makers)
UFDC Origins of Opulence, Vol. 3 No. 1, 48-51, 64-72
From the Barrois Family to Marcellin Halopeau, July 2001, Vol. 4 No. 6, 43-47
Bebes at Home, Oct. 2005, Vol. 8 No. 9, 22-26
First Articulated Bebe, Nov. 2005, Vol. 8 No. 10, 35-37
Unsigned or Unmarked French Poupees and Bebes, March 2008, Vol. 11 No. 2, 26-29
The Little Known Henri Delcroix, May 2008, Vol. 11 No. 4, 54-57
Schmitt et Fils, July 2008, Vol. 11, No. 6, 19-26
Julia - Tracing A Steiner's Past, March 2009, Vol. 12 No. 2, 24-27
A Visit with Janet Gula, May 2009, Vol. 12, No. 4, 27-31
The Mark of the Maker in Doll Faces, May 2009, Vol. 12, No. 4, 38-42
Quality French Bebes with a German Touch, June 2009, Vol. 12 No. 5, 25-29
Leon Casimir Bru, July 2009, Vo. 12 No. 6, 18-25
An A. T. & Her Wardrobe, Nov. 2009, Vol. 12 No. 10, 20-23
Portrait of an Antique Doll Collector, Feb. 2010, Vol. 13, No. 1, 19-25
Verdier & Gutmacher, April 2010, Vol. 13 No. 3, 44-45
Valentines and Old Lace, Feb. 2011, Vol. 14 No. 1, 18-22
Who's Afraid of Early Steiner Bebes? April 2011, Vol. 14 No. 3, 18-22
Emile and Albert and the "Unique" Bebe, June 2011, Vol. 14 No. 5, 25-30
A. Marque Look-Alike, Oct. 2011, Vol. 14 No. 9, 31-33
Dating a Doll, Nov. 2011, Vol. 14 No. 10, 55-57
A Jumeau Journey, Feb. 2012, Vol. 15 No. 1, 18-23
The Bebe Huret, March 2012, Vol. 15 No. 2, 18-23
Bebes Bru, June 2012, Vol. 15 No. 5, 37-41
Mystery Bebe, Sept. 2012, Vol. 15 No. 8, 19-21
Bru Jne R, Nov. 2012, Vol. 15 No. 10, 27-30
Eden Bebe, Feb. 2013, Vol. 16 No. 1, 33-39
Sleeping Bebes by Jumeau, Nov. 2014, Vol. 17 No. 10, 23-26
Bebes in Distress, Feb. 2015, Vol. 18 No. 1, 34-39
Les Petites Bébés Français a 2017 UFDC Special Exhibit, October 2017, Volume 20, Number 9, 22-29
Bebe Jumeaux
Societe Des Bebes Jumeaux, May 2014, Vol. 17 No. 4, 31-35
Bécassine
March 2004, Vol. 7 No. 2, 46-52
March 2005, Vol. 8 No. 2, 56
Early Bécassine Dolls and Collectibles from the Pre-WWII Era, April 2015, Vol. 18, No. 3, 28-34
Beds
Accordion Doll Beds and Cradles, Feb, 2014, Vol. 17, No. 1, 46-49
Beecher
July 2003, Vol. 6 No. 6, 27
Beltons (see Sonneberg)
Bereux
March 2004, Vol. 7 No. 2
Mlle. Bereux Wide Collar Spring Frock, March 2004, Vol. 7 No. 2, 32-33
Becassine... A Belgium Version, Oct. 2009, Vol. 12 No. 9, 34-35
Bing
Gebruder Bing Toy Company, March 2010, Vol. 13 No. 2, 38-41
BJD's
July 2012, Vol. 15 No. 6, 32-36
Black Dolls
A Picture Portfolio, Vol. 3 No. 3, 33-37
Wood Folk Art Dolls, April 2001, Vol. 4 No. 3, 44-46
Reflections on Collecting, June 2009, Vol. 12 No. 5, 48-53
Rarely Found All Bisque Dolls of Color, February 2017, Volume 20 Number 1, 26-34
Bleuette
May/June 1999, Vol. 2 No. 5, 30-31
September 1999, Vol. 2 No 7, 20-24
UFDC Bleuette Gathering, Feb. 2002, Vol. 6 No. 1, 25-30
NADDA Bleuette Exhibit, Nov. 2003, Vol. 6 No. 10, 43-45
Bleuette's Birthday Tour, August 2005, Vol. 8 No. 7, 20-25
Bleuette's 100th Anniversary, UFDC, March 2006, Vol. 9 No. 2, 45-47
The True Story of the Premiere Bleuette, August 2007, Vol. 10 No. 7, 51-54
In Defense of the Premiere Bleuette, Dec. 2007, Vol. 10 No. 11, 26-31
Bleuette During WWI, July 2015, Volume 18, Number 6, 43-49
From the Hands of Little Ladies - Bleuette's Crochet & Knit Patterns, March 2016, Volume 19, Number 2, 38-44
Mariquita Perez - Spain's Bleuette, June 2017, Volume 20, Number 5, 52-56
Bleuette's Playhouse: An Absorbing Look Inside the Rich Rooms of Heather Cullman, February 2018, Volume 21, Number 1, 26-32
Bodies
July 2010, Vol. 13 No. 6, 41-45
Borgfeldt
June 2008, Vol. 11 No. 5, 41-41-46
August 2009, Vol. 12 No. 7, 25-29
Boudoir Dolls
Lenci, July/Aug. 1999, Vol. 2 No. 6, 39-45
Halloween Fantasy, Oct. 2000, Vol. 3 No. 7, 33-35
Sterling Dolls, Jan. 2002, Vol. 4 No. 12, 43-45
Lenci Fadettes, Nov. 2002, Vol. 5 No. 10, 33-35
Blossom Dolls, Sept. 2003, Vol. 6 No. 8, 50-53
Bucilla Doll Kits, April 2004, Vol. 7 No. 3, 52-54
The Evolution of Boudoir Dolls, Jan. 2005, Vol. 7 No. 12, 48-52
Boudoir Dolls of Small Size, Jan. 2006, Vol. 8 No. 12, 56-59
Interesting and Unusual Boudoir Dolls, Dec. 2007, Vol. 10 No. 11, 45-48
Elegant Etta Boudoir Dolls, Jan. 2009, Vol. 11 No. 12, 49-51
French Boudoir Dolls, April 2010, Vol. 13 No. 13, 19-26
Les Poupees Rosalinde, Nov. 2010, Vol. 13 No. 10, 19-27
Apache Boudoir Dolls, Feb. 2012, Vol. 15 No. 1, 45-49
Brownies
Magic and Merriment of Palmer Cox, Feb. 2008, Vol. 11 No. 1, 49-52
Bru
The Bru Dolls and their Creators, August 2001, Vol. 4 No. 7, 46-51
The Bru Dolls and their Creators, September 2001, Vol. 4 No. 8, 23-27
The Bru Dolls and their Creators, Oct. 2001, Vol. 4 No. 9, 43-48
Bebe Teteur, April 2002, Vol. 5 No. 3, 20-26
101 French Bebes, Sept. 2003, Vol. 6 No. 8, 21-25
Circle Dot Bru, Dec. 2004, Vol. 7 No. 11, 37
Sylvie, Bebe Respirant avec Musique, June 2006, Vol. 9 No. 5, 24-26
Leon Casimir Bru, July 2009, Vo. 12 No. 6, 18-25
Double Trouble, July 2011, Vol. 14 No. 6, 56-58
Bebes Bru, June 2012, Vol. 15 No. 5, 37-41
Bru Jne R, Nov. 2012, Vol. 15 No. 10, 27-30
Bucherer
A. Bucherer & Cie, Character and Technology, April 2005, Vol. 8 No. 3, 29-33
The Bucherer Nativity Set… an inspiring example of beauty and creativity, December 2015, Volume 18, Number 11, 23-25

Burgarella
March 2003, Vol. 6 No. 2, 44-49
Busch, Wilhelm
August 2013, Vol. 16. No. 7, 27-30
Bye-Lo Babies
Dec. 2002, Vol. 5 No. 11, 44-47
Baby Love, Jan. 2004, Vol. 6 No. 12, 19-23, 53-55
The Dolls of Grace Story Putnam, Feb. 2008, Vol. 11 No. 1, 39-43
- C -
California Bisque Doll Company
Feb. 2011, Vol. 14 No. 1, 35-39
Cameo
Cameo Doll Company, Vol. 2 No. 9, 41-44
Candy Containers
Antique Candy Containers That Double as Doll Accessories, April 2007,
Vol. 10 No. 3, 47-49
Bonbonnieres at the Doll's House Museum Basel, Dec. 2007,
Vol. 10 No. 11, 51-54
Hoppin' Down the Bunny Trail, April 2014, Vol. 17 No. 2, 25-29
Carmen Sylva
A Queen's Fairytale Dolls, Sept. 2007, Vol. 10 No. 8, 44-48
Caribbean Dolls
French Caribbean Dolls, August 2014, Vol. 17 No. 7, 34
Cartes de Visite
Little Girls and Their Dolls, Dec. 2014, Vol. 17 N. 11, 53-57
Carton Moule
May/June 1998, Vol. 1 No. 5, 43-47
Catterfelder Puppenfabrik
Character Dolls of Catterfelder Puppenfabrik, August 2009, Vol. 12 No. 7, 19-23
Celebrity Dolls
Celebrity Doll Exhibit in LA, March 2001, Vol. 4 No. 2, 20-21
NADDA's Tea with the Stars, August 2001, Vol. 4 No. 7, 53-56
Amberg's Silent Screen Stars, August 2002, Vol. 5 No. 7, 42-44
Composition Dolls of Child and Teen Stars, July 2004, Vol. 7 No. 6, 50-53
We've Got Personality, UFDC Exhibit, Jan. 2007, Vol. 9 No. 12, 49-51
Forgotten Celebrity Dolls, July 2010, Vol. 13 No. 6, 67-70
Flexy Dolls, March 2013, Vol. 16 No. 2, 41-43
Celluloid
Treasures from the Musee de la Poupee, May 2004, Vol. 7 No. 4, 24-26
Celluloid Dolls with molded hair adornment, March 2006, Vol. 9 No. 2, 55-57
Early French Celluloid Dolls by SIC, June 2012, Vol. 15 N. 5, 28-33
Colette, A Classic Good Girl By Petitcollin, October 2015, Volume 18, Number 9, 41-44
Chad Valley
Chad Valley, Jan./Feb. 1999, Vol. 2 No. 2, 48-52
The Royal Treatment by Chad Valley, March 2006, Vol. 9 No. 2, 37-40, 54
Characters (also see individual makers, Bebes, German Dolls)
The Long Life and Many Faces of the Character Doll, Jan. 2006,
Vol. 8 No. 12, 27-32
Early SFBJ Character Babies, April 2006, Vol. 9 No. 3, 40-44
Theme and Variations on German Character Dolls, UFDC Special Exhibit, Nov. 2007, Vol. 10 No. 10, 19-24
Simon & Halbig's 1300 Series, May 2009, Vol. 12, No. 4, 19-23
Oh, boy! June 2016, Volume 19, Number 5, 18-28
Girls With Character - A Collector 's Showcase, June 2017, Volume 20, Number 5, 18-29
Little Girls with Rosy Cheeks — German Character Dolls, April 2018, Volume 21, Number 3, 20-32
Chase
Oct. 2001, Vol. 4 No. 9, 35-40
Endearing Dolls, Enterprising Women, July 2003, Vol. 6 No. 6, 22-27
Everything But Bisque, a UFDC Exhibit, Jan. 2004, Vol. 6 No. 12, 35-40, 64-66
My Martha Chase Enigma Revisited, October 2017, Volume 20, Number 9, 46-51
Children's Dishware
August 2001, Vol. 4 No. 7, 26-29
Toy and Miniature China, March 2007, Vol. 10 No. 2, 57-59
Children's Transferware Dishes, August 2016, Volume 19, Number 7, 38-43
Children's Literature
La Poupee Bien Elevee, The Joys of Cross-Collecting, March 2014, Vol. 17 No. 2, 28-33
Children's Parties
Let's Party! Some Entertaining Traditions of Children's Doll Events, February 2018, Volume 21, Number 1, 46-50
Chinas (also see individual makers)
April 1998, Vol. 1 No. 4, 51-54
UFDC Portraits in China, March 1999, Vol. 2 No. 3, 22-26 and 58-64
Sunken Treasure, Vol. 2 No. 9, 39-40
Vol. 3, No. 4, May/June 2000, 23-30
Schlaggenwald, Nov. 2000, Vol. 3 No. 8, 28-31, 60
A Mysterious & Enchanting China, June 2001, Vol. 4 No. 5, 18-21
Curly Coiffures, July 2002, Vol. 5 No. 6, 20-23
Understanding and Dating China Dolls, Jan. 2003, Vol. 5 No. 12, 42-48
Identifying German Chinas 1840s-1930s, August 2003, Vol. 6 No. 7, 35-39
Curly Tops, Sept. 2003, Vol. 6 No. 8, 38-41
Conta & Boehme, June 2004, Vol. 7 No. 5, 33-38
Those Amazing Twins, June 2004, Vol. 7 No. 5, 51-52
Conta & Boehme, August 2004, Vol. 7 No. 7, 32-37
Waterfall Variations, Oct. 2004, Vol. 7 No. 9, 25-28
Early China Heads, Dec. 2004, Vol. 7 No. 11, 22-26
Boy Dolls of Porcelain, April 2005, Vol. 8 No. 3, 38-41
Bawo and Dotter Importers and Their Chinas, June 2005, Vol. 8 No. 5, 52-55
Early Dolls Made of China (Whyel Museum) July 2005, Vol. 8 No. 6, 27-31
A Lee Ed KPM China Doll, Nov. 2005, Vol. 8 No. 10, 39-40
Identifying German Chinas and Parians, June 2007, Vol. 10 No. 5, 24-30
Identifying German Chinas and Parians Part II, Sept. 2007, Vol. 10 No. 8, 36-41
Are There Any Old Dolls Left in Scandinavia?, August 2008, Vol. 11 No. 7, 47-51
Identifying Miniature China Dolls 1840s-1900s, Nov. 2008, Vol. 11 No. 10, 23-28
Charming Chinas, Jan. 2009, Vol. 11 No. 12, 48
Identifying German Chinas and Parians Part One, August 2009, Vol. 12 No. 7, 37
Identifying German Chinas and Parians, Part Two, Sept, 2009, Vol. 12 No. 8, 51-56
Early Dolls, Jan. 2011, Vol. 13 No. 12, 45-48
A Study of Similar and Parian Molds, April 2011, Vol. 14 No. 3, 45-49
Rare, Elegant Chinas, July 2011, Vol. 14 No. 6, 24-30
Schlaggenwald Part I, Sept. 2011, Vol. 14 No. 8, 35-38
Schlaggenwald Part II, Oct. 2011, Vol. 14 No. 9, 25-29
Exquisite Faces, Sept. 2012, Vol. 15 No. 8, 23-27
A French China, May 2013, Vol. 16 No. 4, 41-42
Rorstrand of Sweden, Feb. 2015, Vol. 18 No. 1, 28-31
"To be, or not to be" -- An Antique or Reissue Royal Copenhagen Doll -- "That is the question!", May 2015, Vol. 18, No. 4, 20-26
Lee Ed - The Dolls of Leola & Edgar Schulze, December 2015, Volume 18, Number 11, 33-36 and 55-59
Civil War Sisters, June 2016, Volume 19, Number 5, 48-49
A Mid 19th Century Wardrobe for a New England Girl, August 2017, Volume 20, Number 7, 53-60
Chinas Heads in Exotic Garb, April 2018, Volume 21, Number 3, 58-60

Christmas (also see Holidays)
Nov./Dec. 1998, Vol. 2 No. 1, 59-62
Jan./Feb. 1999, Vol. 2 No. 2, 26-28
The Collection of Bob Merck, Dec./Jan. 2000-2001, Vol. 3 No. 9, 21-26
Fantasy Vignettes by Dolph Gotelli, Dec. 2001, Vol. 4 No. 11, 28-31
Santons of Provence, Dec. 2001, Vol. 4 No. 11, 36-42
The Christmas Doll, Dec. 2006, Vol. 9 No. 11, 44-48
Dollies' Holiday at the Benjamin Harrison Home, Dec. 2006, Vol. 9 No. 11, 51-55
Memories of Christmas Dolls, Dec. 2007, Vol. 10 No. 11, 42-43
Christmas Revisited, UFDC Special Exhibit, Dec. 2011, Vol. 14 No. 11, 24-30
A Visit with Beth Karp, Dec. 2013, Vol. 16 No. 11, 26-31
Noël Au Château, December 2015, Volume 18, Number 11, 27-31
2015 Golden Glow Convention, December 2015, Volume 18, Number 11, 61-63

Civil War Dolls
April 2012, Vol. 15 No. 3, 32-36, 59
"The Silent Witness, " June 2012, Vol. 15 No. 5, 43-46
Clapham
Clapham Doll Collection, Nov./Dec. 1998, Vol. 2 No. 1, 19-24
Unveiling the Mystery, September 1999, Vol. 2 No 7, 41-43
Nov. 2012, Vol. 15 No. 10, 44-48
Clelia Dolls
Oct. 2004, Vol. 7 No. 9, 32-35
Cloth Dolls (also see individual makers)
Ragtime II, Vol. 1 No. 1, Nov./Dec. 1997, 21-26 and 51-56
Maggie Bessie Dolls, July/August 1998, Vol. 1 No. 6, 32-35
Plain and Fancy Handiwork, Sept. 1998, Vol. 1 No. 7, 45-48
Chad Valley, Jan./Feb. 1999, Vol. 2 No. 2, 48-52
Raggedy Ann Exhibit (NADDA) March 1999, Vol. 2 No. 3, 47-49
Worsted Dolls, Vol. 3, No. 2, 50-52
Dean's Rag Book Co., Oct. 2000, Vol. 3 No. 7, 37-39
Alabama Babies, April 2001, Vol. 4 No. 3, 20-24
One-of-a-Kind, June 2001, Vol. 4 No. 5, 37-40
Eloise, August 2001, Vol. 4 No. 7, 19-24
Golliwogs, Sept. 2001, Vol. 4 No. 8, 57-60
Chase, Oct. 2001, Vol. 4 No. 9, 35-40
Sterling Boudoir Dolls, Jan. 2002, Vol. 4 No. 12, 43-45
The Misses Tebbetts, Nov. 2002, Vol. 5 No. 10, 55-57
NADDA Presents: Homespun: One-of-a-Kind American Cloth Dolls, Jan. 2003, Vol. 5 No. 12, 27-31
Endearing Dolls, Enterprising Women, July 2003, Vol. 6 No. 6, 22-27
Abby Cady, Oct. 2003, Vol. 6 No. 9, 44-46
Uncut Pattern Dolls, Oct. 2003, Vol. 6 No. 9, 48-50
Church and Sewing Circle Dolls, Dec. 2003, Vol. 6 No. 11, 42-44
Everything But Bisque, a UFDC Exhibit, Jan. 2004, Vol. 6 No. 12, 35-40, 64-66
Millie's Miniatures, Oct. 2005, Vol. 8 No. 9 67-69
The Cloth Dolls of Sarah Ellen Midgley, Jan. 2007, Vol. 9 No. 12, 53-56
An Exhibit of Black Cloth Dolls, 1870-1930, June 2007, Vol. 10 No. 5, 18
French Dolls from World War I, Ateliers Artistiques Polonais, Jan. 2008, Vol. 10 No. 12, 41-47
The Patchwork Girl of Oz, Feb. 2008, Vol. 11, No. 1, 35-37
Tynietoy's Elusive Cloth Dollhouse Dolls, April 2008, Vol. 11 No. 3, 35-39
The Lenci-Anili Connection, May 2008, Vol. 11 No. 4, 26-32
Black Kamkins, May 2008, Vol. 11 No. 4, 37-39
Spain: The Cloth Doll Boom of the 1920s and 30s, Feb. 2009, Vol. 12 No. 1, 26-30
Lancaster Rag Dolls, March 2007, Vol. 10, No. 2, 29-35
More on Lancaster Rags & Their Original Clothes, April 2009, Vol. 12 No. 3, 26-31
The Other Little Lenci, April 2009, Vol. 3 No. 1, 48-54
Super Indian and Baby Brother, May 2009, Vol. 12 No. 4, 45-47
Kammer and Reinhardt Cloth Caricature Dolls, Dec. 2009, Vol. 12 No. 11, 40-42
Abigail, The Log Cabin Doll of Brown County, Feb. 2010, Vol. 13 No. 1, 28-31
Raggedy Ann and Andy, May 2010, Vol. 13 No. 4, 39-44
Italian Cloth Smokers, June 2010, Vol. 13 o. 5, 33-35
Rare Chase Dolls, Sept. 2010, Vol. 13 No. 8, 18-22, 42-45
Käthe Kruse Look-Alikes, Nov. 2010, Vol. 13 No. 10, 60-65
Cabinet-Sized Lencis, Jan. 2011, Vol. 13 No. 12, 29-33
Josephine Baker, June 2011, Vol. 14 No. 5, 44-46
An Izannah Walker Reunion, August 2011, Vol. 14 No. 7, 27
Jean Ray's Artist Dolls, Sept. 2011, Vol. 14 No. 8, 41-47
Bernard Ravca, Oct. 2011, Vol. 14 No. 9, 61-65
Lenci's Salome, Jan. 2012, Vol. 14 No. 12, 56-57
Käthe Kruse, Feb. 2012, Vol. 15 No. 1, 32-33
Alice Jorgensen and her Hans Christian Anderson Dolls, Feb. 2012, Vol. 15 No. 1, 34-38
Lenci-Likes, March 2012, Vol. 15 No. 2, 43
"The Silent Witness, " June 2012, Vol. 15 No. 5, 43-46
Rare Lencis, July 2012, Vol. 15 No. 6, 24-30
Fangel, Maud Tousey, July 2012, Vol. 15 No. 6, 51-55
The Seven Faces of Margaret, August 2012, Vol. 15 NO. 7, 41-44
Marazzi Dolls, Oct. 2012, Vol. 15 No. 9, 35-37
Albritton Dolls. Feb. 2013, Vol. 16 No. 1, 53-57
Lenci's 110 and 149 Series, June 2013, Vol. 16 No. 5, 27-33
The Kuddle Kewpie, Ddc. 2013, Vol. 16 No. 11, 36-41
Societe Des Bebes Jumeaux, May 2014, Vol. 17 No. 4, 31-35
The Littlest Lencis, June 2014, Vol. 17 No. 5, 32-36
Alma, An Italian Doll Company, July 2014, Vol. 17 No. 6, 30-35
Ray, Jean, Precursor of the French Art Doll Movement, August 2104, Vol. 17 No. 7, 44-49
Lenci-Type by Nicette, Nov. 2014, Vol. 17 No. 10, 32-41
Raynal Lenci-type, Feb. 2015, Vol. 18 No. 1, 18-26
The Dolls Everyone Wanted To Forget, March 2015, Vol. 18, No. 2, 24-29
Steiff's Beloved Children Felt Dolls, March 2015, Vol. 18, No. 2, 38-41
Underappreciated Cloth Dolls, April 2015, Vol. 18, No. 3, 45-49
Magali Lenci-Type Dolls, May 2015, Vol. 18, No. 4, 37-42
Seasons: A Vintage Work of Art in Felt by Nancy Lazenby, June 2015, Vol. 18, No. 5, 45-51
The "Margot" Mystery, August 2015, Volume 18, Number 7, 19-25 and 50-54
A Visit to an Izannah Home, August 2015, Volume 18, Number 7, 43-48
From Rags to Riches, September 2015, Volume 18, Number 8, 21-27
Playing with the Christmas Doll, October 2015, Volume 18, Number 9, 62-63
The Mystery of "Mme Paderewski's Dolls", November 2015, Volume 18, Number 10, 34-42
Printed Dolls by L'Imagerie de Paris, December 2015, Volume 18, Number 11, 37-40
American Women Dream in Cloth: Cottage Industry 1840-1930 - Part I, January 2016, Volume 18, Number 12, 47-51
Steiff's Pressed Felt-Faced Dolls, February 2016, Volume 19, Number 1, 23-27
The Crocheted Critters of Carl Horn Nachf and Hertwig and Company, February 2016, Volume 19, Number 1, 38-40
American Women Dream in Cloth: Cottage Industry 1840-1930 - Part II, February 2016, Volume 19, Number 1, 42-47
Bernard Ravca's Real People, April 2016, Volume 19, Number 3, 34-44
The R. John Wright Brownies, May 2016, Volume 19, Number 4, 27-28
The Witherspoon Rag Dolls, May 2016, Volume 19, Number 4, 41-44
The Stories Polly Heckewelder Dolls Tell, May 2016, Volume 19, Number 4, 46-53
Yvonne Spaggiari's Art Cloth Dolls, July 2016, Volume 19, Number 6, 40-49
Bambole Lena, in the Shadow of Lenci, July 2016, Volume 19, Number 6, 51-54
An Artist Collects, August 2016, Volume 19, Number 7, 20-24
Steiff's Early Soldier and Police Dolls, August 2016, Volume 19, Number 7, 33-37
Lenci Novelty Items, September 2016, Volume 19, Number 8, 45-51
Marie Vassilief "Little Me" Portrait Dolls, December 2016, Volume 19, Number 11, 20-26
Liberty of London Dolls, December 2016, Volume 19, Number 11, 49-55
Liberty of London - Royal Dolls Part II, June 2017, Volume 20, Number 5, 42-49
Izannah Walker and Her Dolls, September 2017,Volume 20, Number 8, 22-34
Back To The Sixties - An Elusive and Festive Spanish Doll, September 2017,Volume 20, Number 8, 56-59
Rudolph Valentino's Mystery 'Lady in Black', October 2017, Volume 20, Number 9, 40-43
My Martha Chase Enigma Revisited, October 2017, Volume 20, Number 9, 46-51
Cloth Dolls to Cut and Sew, November 2017, Volume 20, Number 10, 54-61
Liberty of London Part III, December 2017, Volume 20, Number 11, 44-50
Albert Schlopsnies: Steiff's Creative Artist, December 2017, Volume 20, Number 11, 52-56
Nostalgia or Propaganda: Souvenir Dolls and the Franco Regime, January 2018, Volume 20, Number 12, 36-45
Collector's Corner: The Allure of Cloth Dolls, February 2018, Volume 21, Number 1, 34-43
The "Highly Original Character Dolls" of Kammer & Reinhardt, February 2018, Volume 21, Number 1, 52-56
Izannah Dreaming, March 2018, Volume 21, Number 2, 20-25
The October 2017 Exhibit of Izannah Walker Dolls at the Jenny Lind Doll Show, March 2018, Volume 21, Number 2, 28-34
The Whimsical Steiff Dolls, April 2018, Volume 21, Number 3, 40-43

Clothing (also see Fashions, Wardrobes and Patterns)
A Fashion and Her Wardrobe, September 2000, Vol. 3 No. 6, 29-32
Musee de la Poupee - Trousseaux de Poupee, Feb. 2002, Vol. 5 No. 1, 42-45
The Well-Dressed Huret, June 2002, Vol. 5 No. 5, 20-24
Bridal Gown and Trousseau Pattern, June 2003, Vol. 6 No. 5, 32
Creating a Wardrobe for the Empress Eugenie, Jan. 2006, Vol. 8 No. 12, 19-25
Trousseaux for Dolls, Feb. 2008, Vol. 11 No. 1, 53-54
Violette's Chemisette, May 2008, Vol. 11 No. 4, 41-44
A Jaunty Little Affair, Nov. 2008, Vol. 11 No. 10, 39-44
The Trousseau Doll at De Kleine Wereld Museum, June 2009, Vol. 12 No 5, 19-22
Chiffonnette's Capeline, March 2011, Vol. 14, No. 2, 38-41
A Pelerine for Chiffonnette, April 2011, Vol. 14 No. 3, 25-28
Chiffonnette's Seaside Costume, Sep. 2011, Vol. 14 No. 8, 18-24
Mantelets from Chiffonnete's Trousseau, Nov. 2011, Vol. 14 No. 10, 36-42
Snoods, August 2012, Vol. 15 No. 7, 23-31
Carrie A. Hall Fashion Mannikin Wardrobe, Dec. 2012, Vol. 15 No. 11, 36-40
Who Is Chiffonnette? August 2013, Vol. 16 No. 7, 19-28
Poupees de Mode under Napoleon III, Oct. 2013, Vol. 16 No. 9, 18-25
Mode Enfantine, UFDC Exhibit, Dec. 2013, Vol. 16 No. 11, 44-50
The Enchanting Trousseau of Chiffonnette, Feb. 2014 Vol. 17 No. 1, 36-37
A Fantasy Wedding for a French Fashion Doll, June 2014, Vol. 17 NO. 5, 26-30
A Mid-Nineteenth Century Hood for a Child Doll, July 2014, Vol. 17 No. 6, 55-60
Aids to Beauty (Fashion Undergarments), August 2014, Vol. 17 No. 7, 36-38
Born With A Needle In Her Hand -- Seven Fashion Gowns by Carrie Hall, May 2015, Vol. 18, No. 4, 29-34
More Sense than Sensibility -- Ladies' Fashions in the Empire & Regency Period (1790-1820), May 2015, Vol. 18, No. 4, 43-46
A Barrois Bride: A Fashion Doll's Trousseau "Tout mon coeur pour tout ma vie." by Laurie Baker, June 2015, Vol. 18, No. 5, 25-29
Frivolities & Whimsicalities From Chiffonnette's Trousseau, July 2015, Volume 18, Number 6, 54-61
Fanciful Eccentricities From Chiffonnette's Trousseau, November 2015, Volume 18, Number 10, 18-26
Mrs. Ernestine Stéphanie Jumeau, Empress of the Bébé Jumeau Fashion, February 2016, Volume 19, Number 1, 32-36
For Fashion's Sake - A Look at Antique Doll Corsets, February 2017, Volume 20 Number 1, 36-43
A Mid 19th Century Wardrobe for a New England Girl, August 2017, Volume 20, Number 7, 53-60
"Izannah Aprons," A Closer Look, September 2017,Volume 20, Number 8, 39-41
Manneken Pis, the World's Best Dressed Statue, October 2017, Volume 20, Number 9, 54-58
Pattern For Nightgown And Slippers, 1927, March 2018, Volume 21, Number 2, 54-58
Cochran, Dewees
April 2004, Vol. 7 No. 3, 24-27
As If They Might Speak (NADDA) August 2005, Vol. 8 No. 7, 50-53
Portrait Children, Jan. 2013, Vol. 15 No. 12, 45-49
Cole, Roxanna and Molly Hunt
Everything But Bisque, a UFDC Exhibit, Jan. 2004, Vol. 6 No. 12, 35-40, 64-66
Collectors
Show and Tell with Paula Olsson, May/June 1998, Vol. 1 No. 5, 49-52
Show and Tell with Susan Hedrick, July/August 1998, Vol. 1 No. 6, 49-53
Show and Tell with Thelma Mathis, Sept. 1998. Vol. 1 No. 7, 58-62
Show and Tell with Tore Scelso, Oct. 1998, Vol. 1 No. 8, 43-47
Show and Tell with Linda Pagliaroni, Nov./Dec. 1998, Vol. 2 No. 1, 54-57
Show and Tell with Gae Ward, April 1999, Vol. 2 No. 4, 33-37
Show and Tell with Janet Hollingsworth, May/June 1999, Vol. 2 No. 5, 23-27
Show and Tell with Carol Ohnemus, September 1999, Vol. 2 No. 7, 27-32
Show and Tell with Erich J. Cirilano, Vol. 2 No. 9
Show and Tell with Patricia Gosh, Vol. 3 No. 3, 23-29
Show and Tell with Jean Grout, March 2001, Vol. 4 No. 2, 39-43
Show and Tell with Lucy Morgan, Dec. 2002, Vol. 5, No. 11, 22-29
Show and Tell with Pam and David Kandel, June 2003, Vol. 6 No. 5, 21-28
Alison Bowen, Dolls of Mercy, Oct. 2005, Vol. 8 No. 9, 38-41
Judy Kouchoukos, Amazing Collecting Stories, May 2006, Vol. 9 No. 4, 57-60
Gail Cook, Sept. 2006. Vol. 9 No. 8, 30-35
A Visit with Carole Musulin, June 2007, Vol. 10 No. 5, 50-54
A Visit with Barbara Kouri, Dec. 2007, Vol. 10 No. 11, 67-70
A Visit with Sherryl Shirran, April 2008, Vol. 11 No 3, 25-30
Anna Lee Shetler, Sept. 2008, Vol. 11 No. 8. 53-57
A Visit with Janet Gula, May 2009, Vol. 12, No. 4, 27-31
A Visit with Susan Foreman, July 2009, Vol. 12 No. 6, 43-50
Colemans, Sept. 2009, Vol. 12 No. 8, 45-48
A Visit with Jocelyn Adellar, Jan. 2011, Vol. 13 No. 12, 18-24
Sheryl Varon, Feb. 2010, Vol. 13, No. 1, 19-25
Julie Blewis, June 2010, Vol. 13 No. 5, 18-24
Marina Tagger, Feb. 2011, Vol. 14 No 1, 41-45
Anna May Case, Nov. 2011, Vol. 14 No. 10, 23-31
Anita Ladensack, Dec. 2011, Vol. 14 No 11, 46-51
Helen Welsh Gastaldo, Jan. 2012, Vol. 14 No. 12, 18-25
Guido Odin, Oct. 2012, Vol. 15 No. 9, 26-32
Kelly Harpster, Nov. 2012, Vol. 15 No. 10, 33-41
Christmas at Fritzi's, Dec. 2012, Vol. 15 No. 11, 27-33
Evelyn Phillips, April 2013, Vol. 16 No. 3, 27
Bernice Millman, Sept. 2013, Vol. 16 No. 8, 25-30
A Visit with Beth Karp, Dec. 2013, Vol. 16 No. 11, 26-31
The Coleman Collection, Jan. 2014, Vol. 16 No. 12, 44-47
Lix Krupp, June 2014, Vol. 17 No. 5, 19-23
A Visit with Ann Meehan Part 1, August 2014, Vol. 17 #7, 26-32
The Ciraolo Collection, Oct. 2014, Vol. 17 No. 9, 24-27
A Visit with Ann Meehan Part 1, August 2014, Vol. 17 #7, 26-32
A Visit with Ann Meehan Part 2, Oct. 2014, Vol. 17 No. 9, 31-37
A Visit with Ann Meehan, Part 3, Dec. 2014, Vol. 17 No. 11, 40-47
Theriault's to Present the World-Class Doll Collection of Berta Hackney at Auction, March 2015, Vol. 18, No. 2, 18-21
A Visit with Cynthia and George Orgeron, July 2015, Volume 18, Number 6, 36-41
Synchronicity in Doll Collecting, January 2016, Volume 18, Number 12, 18-23
Remembering Anna May Case, September 2016, Volume 19, Number 8, 18-20
The Journey Continues… An Antique Doll Collector's Tale, November 2016, Volume 19, Number 10, 18-29
Starting Young: A Newbie Shares Her Treasures, November 2016, Volume 19, Number 10, 31-33
The Extraordinary Collection of Vincenza Fedele, Part One, April 2017, Volume 20, Number 3
The Tarnowska Collection: A Personal Perspective by Francois Theimer, May 2017, Volume 20, Number 4, 30-34
The Extraordinary Collection of Vincenza Fedele, Part 2, August 2017, Volume 20, Number 7, 18-24
The Kaonis Collection A Tribute to Whimsy and Wonderment, February 2018, Volume 21, Number 1, 13-24

Columbian
Endearing Dolls, Enterprising Women, July 2003, Vol. 6 No. 6, 25
Everything But Bisque, a UFDC Exhibit, Jan. 2004, Vol. 6 No. 12, 35-40, 64-66
Composition (see American-Made Dolls)
The Ottenberg Eye, May 2008, Vol. 11 No. 4, 47-50
Where is Rosabelle? August 2008, Vol. 11 No. 7, 53-56
More New Discoveries, Oct. 2008, Vol. 11 No. 9, 42-45
Coquette Cuties, June 2011, Vo. 14 No. 5, 48-52
Carnival Dolls, Oct. 2011, Vol. 14 No. 9, 53-59
Unbreakable and Unmistakable: The Incassable Little Children of France by Ginger Strain, June 2015, Vol. 18, No. 5, 37-42
Unbreakable and Unmistakable Le Grande Incassables - Part II, September 2015, Volume 18, Number 8, 40-45
Mysterious Monica, November 2015, Volume 18, Number 10, 29-32
Look what I can do Mommy! Mechanical Dolls of Composition, March 2016, Volume 19, Number 2, 46-52
Composition Dolls in Handmade Ethnic Costumes, April 2016, Volume 19, Number 3, 28-31
Flossie Fisher's Own Doll, November 5, 2016, October 2016, Volume 19, Number 9, 56-58
A Whistle and a Shimmy; Clockwork Carnival Dolls of the 1920s, December 2016, Volume 19, Number 11, 43-47
More 1920s Carnival Dolls, March 2017, Volume 20, Number 2, 42-43
W.C.Fields, the Man and the Doll, March 2017, Volume 20, Number 2, 36-40



Conservation
The Care and Feeding of Your Doll Collection, July/Aug. 1999,
Vol. 2 No. 6, 23-28
Conta & Boehme
June 2004, Vol. 7 No. 5, 33-38
August 2004, Vol. 7 No. 7, 32-37
Costuming (also see Patterns, Wardrobes, Fashions)
Creating a Wardrobe for the Empress Eugenie, Vol. 8 No. 12, 19-25
Binder-Ize! Feb, 2007, Vol. 10 No. 1, 43-46
The Model Doll Shows of 1896-1898, June 2011, Vol. 14 No. 5, 35-39
A Poupee's Exquisite Wardrobe, March 2017, Volume 20, Number 2, 28-32 and 56-59
Cradles
Accordion Doll Beds and Cradles, Feb, 2014, Vol. 17, No. 1, 46-49
Creche
Show and Tell with Erich J. Cirilano, Vol. 2 No. 9
Varieties of Creche Figures, Dec. 2009, Vol. 12 No.11, 49-53
Krippen at the Bavarian National Museum, Dec. 2014, Vol. 17 No. 11, 50-51
The Bucherer Nativity Set… an inspiring example of beauty and creativity, December 2015, Volume 18, Number 11, 23-25

- D -
Daisy
More Than Just a Doll, UFDC, Feb. 2005, Vol. 8 No. 1, 25-27
Oct. 2011, Vol. 14 No. 9, 47-50
Dean's Rag
Dean's Rag Book Co., Oct. 2000, Vol. 3 No. 7, 37-39
De Fuisseaux
May 2014, Vol. 17 No. 4, 37-39
Dehors
A Face in the Crowd, Jan. 2014, Vol. 16 No. 12, 18-24
Delcroix
Little Known Henri Delcroix, May 2008, Vol. 11 No. 4, 54-57
Displaying Dolls
May 2004, Vol. 7 No 4, 45-49
Welcome to my Doll Room, May 2006, Vol. 9 No. 4, 42-45
Cabinet Control: Organize your collection, March 2018, Volume 21, Number 2, 59-60
Dogs & Dolls
Faithfully Yours, June 2001. Vol. 4 No. 5, 23-27
A Doll's Best Friend, April 2018, Volume 21, Number 3, 48-51
Doll Art
May 2010, Vol. 13 No. 4, 29-32
Doll Carriages (see Perambulators)
Dollhouses and Furnishings (also see Miniatures and Dollhouse Dolls)
April 1998, Vol. 1 No. 4, 35-40
A Victorian Dollhouse, Sept. 1998. Vol. 1 No. 7, 51-55
An Open House Tour of a Late Victorian Gem, Nov./Dec. 1998,
Vol. 2 No. 1, 32-39
Seymour Place, November 1999, Vol. 2 No. 8, 50-54
Nuremberg Kitchen, Vol. 3 No. 1, 52-54
Margareta's House, Vol. 3 No. 2, 36-39
Preview Theriault's, Oct. 2001, Vol. 4 No. 9, 50-52
McLoughlin, March 2002, Vol. 5 No. 2, 37-39
Olympia House, June 2003, Vol. 6 No. 5, 46-50
A House Without a Pedigree, July 2003, Vol. 6 No. 6, 57-60
Preview Dingley Hall at Christie's South Kensington, August 2003,
Vol. 6 No. 7, 26-30
The Toy Museum at Old Salem, Jan. 2004, Vol. 6 No. 12, 26-30, 56-61
Barrett Preview Washington Dolls' House & Toy Museum, May 2004,
Vol. 7 No. 4, 19-22
Rock & Graner's Dollhouse Furniture, June 2004, Vol. 7 No. 5, 42-46
The Hallowell House, July 2004, Vol. 7 No. 6, 31-34
Washington Dolls' House and Toy Museum Results, August 2004,
Vol. 7 No. 7, 56-57
Fern Villa, March 2005, Vol. 8 No. 2, 20-25
100 Years of Miniature Homes (Red Hill Museum) May 2005,
Vol. 8 No. 4, 41-46
Antique Dollhouses at the Mary Merritt Museum, Sept. 2005,
Vol. 8 No. 8, 35-41
Sunstein Collection, Nov. 2005, Vol. 8 No. 10, 28-33
English Style in Miniature, Red Hill Museum, May 2006, Vol. 9 No. 4, 25-29
Kew Palace Baby House, June 2006, Vol. 9 No. 5, 14
A Tudor Revival Dollhouse, Oct. 2006, Vol. 9 No. 9, 40-43
Soft Metal Doll Furniture and Accessories, Nov. 2008, Vol. 11 No. 10, 30-33
Tickling the Ivories in the Dollhouse, Jan. 2009, Vol. 11 No. 12, 35-38
An English Dollhouse in America, August 2009, Vol. 12 o. 7, 53-57
The Shops of Christian Hacker, Jan. 2010, Vol. 12 No. 12, 42-45
1910 Gottschalk Dollhouse, March 2010, Vol. 13 No. 2, 25-28
The Small, Secret World of Dina Vierny, March 2010, Vol. 13 No. 2, 54-55
Early Hingham Craftsmen Part I, May 2010, Vol. 13 No. 4, 56-60
Early Hingham Craftsmen, Part II, June 2010, Vol. 13 No. 5, 42-46
Crossing the Border for Dollhouses, August 2010, Vol. 13 No. 7, 56
Toy Museum of Old Salem, Sept. 2010, Vol. 13 No. 8, 72-75
A Cunning Cottage For Two, Vol. 14 No. 11, 36-41
In Residence at Stone Gables, June 2012, Vol. 15 No. 5, 19-26
Brooks House, July 2012, Vol. 15 No. 6, 39-44
An 18th Century Spanish Dollhouse, July 2013, Vol. 16 No. 6, 48-53
Volla Mase, Nov. 2013, Vol. 16 No. 10, 35-39
Sandra Sue Dollhouse, Feb. 2014, Vol. 17 No. 1, 32-34
The House that Cried Rescue Me!, May 2014, , Vol. 17 o. 4, 26-29
A Visit with Ann Meehan Part 1, August 2014, Vol. 17 #7, 26-32
A Visit with Ann Meehan Part 2, Oct. 2014, Vol. 17 No. 9, 31-37
A Visit with Ann Meehan, Part 3, Dec. 2014, Vol. 17 No. 11, 40-47
Luce Dollhouse Furniture, Feb. 2015, Vol. 18 No. 1, 46-53
A Special English Town House, April 2015, Vol. 18, No. 3, 41-43
Rare and Unusual Tynietoy Furnishings, May 2015, Vol. 18, No. 4, 48-53
Rare and Unusual Tynietoy Accessories, September 2015, Volume 18, Number 8, 33-38
Noël Au Château, December 2015, Volume 18, Number 11, 27-31
The Ram's Head House, January 2016, Volume 18, Number 12, 25-29 and 56
Step Inside An English Victorian Dolls' House, March 2016, Volume 19, Number 2, 26-31
After The Museum – A Second Act, August 2016, Volume 19, Number 7, 45-52
Charming and CHARMED! Restoring an Antique Dollhouse Cottage from Brittany, France, September 2016, Volume 19, Number 8, 22-28
An Unexpected Antique: The Dolls' House That Started My Collection, November 5, 2016, October 2016, Volume 19, Number 9, 38-44
An Artist's Thoughts on a Wonderful Exhibit in Concord, December 2016, Volume 19, Number 11, 28-34
The Small and Cozy World of Walfrid Victoreen, April 2017, Volume 20, Number 3
Bleuette's Playhouse: An Absorbing Look Inside the Rich Rooms of Heather Cullman, February 2018, Volume 21, Number 1, 26-32
Bellamy's House: An excerpt from the book "Family Dolls' Houses", April 2018, Volume 21, Number 3, 47 and 52-54

Dollhouse Dolls (also see Miniatures)
Early 19th Century Grodnertal Dollhouse Dolls, July/August 1998,
Vol. 1 No. 6, 37-41
Rarities, May 2001, Vol. 4 No. 4, 40-42
The Toy Museum at Old Salem, Jan. 2004, Vol. 6 No. 12, 26-30, 56-61
The Hallowell House, July 2004, Vol. 7 No. 6, 31-34
Grecon Miniature Dolls, August 2006, Vol. 9. No. 7, 60-61
German Bisque Dollhouse Dolls, Jan. 2007, Vol. 9 No. 12, 25-31, 59
Dollhouse Dolls at Auction, May 2007, Vol. 10 No. 4, 18, 58
Tynietoy's Elusive Cloth Dollhouse Dolls, April 2008, Vol. 11 No. 3, 35-39
In Residence at Stone Gables, June 2012, Vol. 15 No. 5, 19-26
An English Box-Back House, Sept. 2012, Vol. 15 No. 8, 40-45
A Child's Garden of Dreams. Feb. 2014, Vol. 17 No. 1, 39-43
A Visit with Ann Meehan Part 2, Oct. 2014, Vol. 17 No. 9, 31-37
A Visit with Ann Meehan Part 3, Dec. 2014, Vol. 17 No. 11, 40-47
Opening the Door to an 1845 English Baby House, Jan. 2015, Vol. 17 No. 12, 27-34
Mon Plaisir… on the TLC Grand European Tour, April 2015, Vol. 18, No. 3, 37-39
An Artist's Thoughts on a Wonderful Exhibit in Concord, December 2016, Volume 19, Number 11, 28-34
Dollhouse Furniture (see Miniatures)
Dolls with Molded Flowers
Victorian Flower Children, May/June 1998, Vol. 1 No. 5, 19-24
Door of Hope
Nov./Dec. 1997, Vol. 1 No. 1, 39-47
May/June 1998, Vol. 1 No. 5, 32-39
Mystery Dolls at the Strong Museum, April 2006, Vol. 9 No. 3, 67-68
May 2007, Vol. 10 No. 4, 20-25, 48-53
A Pre-Door of Hope Chinese Man and his Costumes, July 2008, Vol. 11 No. 8, 43-49
The Door of Hope, Nov. 2009, Vol. 12 No. 10, 45
Dressel, Cuno and Otto
Munich Art Type Dolls, August 2012, Vol. 15 No. 7, 18-21
Maud, An Antique Doll with Provenance, September 2017,Volume 20, Number 8, 52 and 54
- E -
Early Dolls
Splendid Ladies and Handsome Gentlemen Part I, Vol. 3 No. 1, 37-42
Edwardian Era
May 2005, Vol. 8 No. 4, 20-23, 55-57
Edwardian Lady Dolls and Their Wardrobes, April 2014, Vol. 17 No. 3, 19-23
Edwina Fallis Toy Shop
March 2011, Vol. 14, No. 2, 38-41
Effanbee
Clippo, Dec. 2003, Vol. 6 No. 11, 33-36
Anne Shirley, August 2004, Vol. 7 No. 7, 50-53
More Than Just a Doll, UFDC (Patsy), Feb. 2005, Vol. 8 No. 1, 25-27
Skippy, August 2006, Vol. 9 No. 7, 42-45
Nov. 2006, Vol. 9 No. 10, 28-29
Fleischaker & Baum, Feb, 2007, Vol. 10 No. 1, 49-52
Patsykins, March 2006, Vol. 10 No. 2, 45-48
A Glamorous June Bride, June 2007, Vol. 10 No. 5, 37-41
Colorful Composition Novelty Dolls, April 2011, Vol. 14 No. 3, 31-33
Effanbee's Honey, August 2009, Vol. 12 No. 7, 48-51
Schiaparelli, July 2010, Vol. 13 No. 6, 32-37
The Patsy Alice Mystery, Jan. 2011, Vol. 13 No. 12, 55-57
Popeye and Friends, Sept. 2011, Vol. 14 No. 8, 50-52
Sweetie Pie and Tousle-Tot, August 2012, Vol. 15 No. 7, 46-49
Patsy, July 2013, Vol. 16 No. 6, 42-46
Harmonica Joe, August 2013, Vol. 16, No. 7, 49-51
Eloise
August 2001, Vol. 4 No. 7, 19-24
Ephemera
Victorian Trade Cards and Dolls, May 2012, Vol. 15 No. 4, 41-45
UFDC Ephemera Exhibit, Dec. 2012, Vol. 15 No. 11, 50-51
Dolls In Print by Melanie Luther, June 2015, Vol. 18, No. 5, 53-56
Etrennes
Nov./Dec. 1998, Vol. 2 No. 1, 41-47
Jan. 2003, Vol. 5 No. 12, 35-38
Jan. 2012, Vol. 14 No. 12, 35-38
Exhibits (also see UFDC)
200 Years of Childhood (Winterthur) November 1999, Vol. 2 No. 8, 57-60
Atlantique City Dolls and Teddy Bears, Vol. 3 No. 2, 29-33, 54-57
Teddy Bears The Early Years (Atlantique City) Vol. 3 No. 3, 41-46, 58-60
Atlantique City Dolls and Teddy Bears, May/June 2000, Vol. 3 No. 4, 46-50
Teddy Bears, Atlantique City, July 2002, Vol. 5 No. 6, 51-54
Friends of Childhood, Prairie Rapids Doll Club, Jan. 2008, Vol. 10 No. 12, 64-66
Eskimo
Northern Exposure - Historical Rarities from Labrador, June 2017, Volume 20, Number 5, 58-60
- F -
Faere or Fairy
Collectibles: A Faere Story, April 2017, Volume 20, Number 3


Fangel, Maud Tousey
July 2012, Vol. 15 No. 6, 51-55
Fans
Language of the Fan, June 2013, Vol. 16 No. 5, 18-25
Fashion Dolls (also see individual makers)
Romance - The Life of Lillian Dal Monte, March 1998, Vol. 1 No 3, 34-40
If You Could Have But One Doll, July/August 1998, Vol. 1 No. 6, 44-47
Huret, Sept. 1998. Vol. 1 No. 7, 35-42
Les Poupees Modeles, Oct. 1998, Vol. 1 No. 8, 20-25
Huret, Jan./Feb. 1999, Vol. 2 No. 2, 55-59
Huret, May/June 1999, Vol. 2 No. 5, 33-38
Huret Furniture, May/June 2000, Vol. 3 No. 4, 34-36
A Story About Evette, May/June 2000, Vol. 3 No. 4, 58-60
A Fashion and Her Wardrobe, September 2000, Vol. 3 No. 6, 29-32
From the Barrois Family to Marcellin Halopeau, July 2001, Vol. 4 No. 6, 43-47
Musee de la Poupee - Trousseaux de Poupee, Feb. 2002, Vol. 5 No. 1, 42-45
The Well-Dressed Huret, June 2002, Vol. 5 No. 5, 20-24
Mathilde - A Name Upon A Box, Jan. 2003, Vol. 5 No. 12, 20-26
Bridal Gown and Trousseau Pattern, June 2003, Vol. 6 No. 5, 32
Les Petities Parisiennes, July 2003, Vol. 6 No. 6, 42-48
Renowned Poupees, Revered Women, March 2004, Vol. 7 No. 2, 24-31
Memoirs of Eugenie, July 2004, Vol. 7 No. 6, 21-27
Dolls: Fashions and Tales - 1860s Style, Sept. 2004, Vol. 7 No. 8, 43-46
La Fete de Parisiennes Part I (Toy & Miniature Museum of Kansas City),
Oct. 2004, Vol. 7 No. 9, 19-24, 56-63
La Fete de Parisiennes Part II (Toy & Miniature Museum of Kansas City), Jan. 2005, Vol. 7 No. 12, 18-27
The Finishing Touch, Sept. 2005, Vol. 8 No. 8, 19-25
Creating a Wardrobe for the Empress Eugenie, Jan. 2006, Vol. 8 No. 12, 19-25
The Legacy of Lily, April 2006, Vol. 9 No. 3, 19-26
Mademoiselle Marie, Jan. 2007, Vol. 9 No. 12, 19-23, 57-58
Maison Simmone, July 2007, Vol. 10 No. 6, 18-23
Paris Collection Encore - A Mantle with Open Sleeves, July 2007,
Vol. 10 No. 6, 57-63
A Rare Rohmer Fashion Doll, Sept. 2007, Vol. 10 No. 8, 20-22
The Summer Tunique of Violette d'Epigny, Oct. 2007, Vol. 10 No. 9, 28-29, 56-63
A Parisienne's Story of Love, Jan. 2008 Vol. 10 No. 12, 19-25
Unsigned or Unmarked French Poupees and Bebes, March 2008, Vol. 11 No. 2, 26-29
A Spring Doll Tour in Germany and a Bavarian Princess, March 2008, Vol. 11 No. 2, 41-44
Who was Fernande Broudehoux? June 2008, Vol. 11 No. 5, 21-25
NADDA, A is for Annabelle, August 2008, Vol. 11 No. 7, 21-26
Violette's Chemisette, May 2008, Vol. 11 No. 4, 41-44
A Jaunty Little Affair, Nov. 2008, Vol. 11 No. 10, 39-44
The Trousseau Doll at De Kleine Wereld Museum, June 2009, Vol. 12 No 5, 19-22
Ella, Jan. 2009, Vol. 11 No. 12, 19-25
Memoirs of Parisienne, Jan. 2010, Vol. 12 No. 12, 19-24
Lilas, the Exemplary Life of a Rohmer Lady Doll, March 2010, Vol. 13 No. 2, 18-23, 46-49
A Male Fashion, May 2010, Vol. 13 No. 4, 21-27
Melisande, July 2010, Vol. 13 No. 6, 20-28
Deruechette, The Great Man's Doll, July 2010, Vol. 13 No. 6, 47-50
Blondinette Davranche, Nov. 2010, Vol. 13 No. 9, 48-49
Chiffonette's Capeline, March 2011, Vol. 14, No. 2, 38-41
A Pelerine for Chiffonnette, April 2011, Vol. 14 No. 3, 25-28
Valentines and Old Lace, Feb. 2011, Vol. 14 No. 1, 18-22
The Birth of the Huret, May 2011, Vol. 14 No. 4, 18-24
Chiffonnette's Seaside Costume, Sep. 2011, Vol. 14 No. 8, 18-24
Mantelets from Chiffonnete's Trousseau, Nov. 2011, Vol. 14 No. 10, 36-42
Leontine Rohmer, Dec. 2011, Vol. 14 No. 11, 17-22
The Game of La Poupee Modele, Feb. 2012, Vol. 15 No. 1, 26-31
The Repair of a Terrene French Fashion, May 2012, Vol. 15 No. 4, 20-25
Snoods, August 2012, Vol. 15 No. 7, 23-31
Lillian Del Monte, Oct. 2012, Vol. 15 No. 9, 44-48
Carrie A. Hall Fashion Mannikin Wardrobe, Dec. 2012, Vol. 15 No. 11, 36-40
The Marie Antoinette Fantasy, Jan. 2013, Vol. 15 No. 12, 38-43, 64-67
The Governess, May 2013, Vol. 16 No. 4, 19-25
The Language of the Fan, June 2013, Vol. 16 No. 5, 18-25
Who Is Chiffonnette? August 2013, Vol. 16 No. 7, 19-28
Poupees de Mode under Napoleon III, Oct. 2013, Vol. 16 No. 9, 18-25
Dehors, Jan. 2014, Vol. 16 No. 12, 18-24
A Simon Halbig Fashion Doll, Feb. 2014, Vol. 17 No. 1, 22-26
A Room of Their Own, May 2014, Vol. 17 No. 4, 51-55
Mother-of-Pearl French Fashion Doll Accessories, August 2014, Vol. 17 No. 7, 52-55
Girls in White, Jan. 2015, Vol. 17 No. 12, 18-24
A Fanciful Apron form Chiffonnette's Trousseau, Jan. 2015, Vol. 17 No. 12, 37-43
Born With A Needle In Her Hand -- Seven Fashion Gowns by Carrie Hall, May 2015, Vol. 18, No. 4, 29-34
More Sense than Sensibility -- Ladies' Fashions in the Empire & Regency Period (1790-1820), May 2015, Vol. 18, No. 4, 43-46
A Barrois Bride: A Fashion Doll's Trousseau "Tout mon coeur pour tout ma vie." by Laurie Baker, June 2015, Vol. 18, No. 5, 25-29
An Extraordinary One-of-a-Kind Historical Doll in the Image of Marguerite de Valois by François Theimer, June 2015, Vol. 18, No. 5, 32-35
Frivolities & Whimsicalities From Chiffonnette's Trousseau, July 2015, Volume 18, Number 6, 54-61
Fanciful Eccentricities From Chiffonnette's Trousseau, November 2015, Volume 18, Number 10, 18-26
The Huret, An Inspired French Fashion, December 2015, Volume 18, Number 11, 45-47
Mrs. Ernestine Stéphanie Jumeau, Empress of the Bébé Jumeau Fashion, February 2016, Volume 19, Number 1, 32-36
A Walk in the Parisian District of Early French Fashion Doll Shops, April 2016, Volume 19, Number 3, 18-26
Just Their Size: Dolls' Sewing Étuis and Their Uses, April 2016, Volume 19, Number 3, 46-52
An American Art Doll for High End Fashions, June 2016, Volume 19, Number 5, 42-46
For Fashion's Sake - A Look at Antique Doll Corsets, February 2017, Volume 20 Number 1, 36-43
A Poupee's Exquisite Wardrobe, March 2017, Volume 20, Number 2, 28-32 and 56-59
Finlaystone Collection,
March 1999, Vol. 2 No, 3, 66-69
Flora McFlimsey
July 2012, Vol. 15 No. 6, 71-73
Fly-Lo
Putnam, Grace Storey Baby Love, Jan. 2004, Vol. 6 No. 12, 21
Footwear
Feb. 2008, Vol. 11 No. 1, 27-31
Foreign Costume
French Dolls in Folklore Costume 1850-1920, May/June 2000, Vol. 3 No. 4, 38-43
Special Dolls to Teach a Little Princess, June 2005, Vol. 8 No. 5, 25-28
A Touch of the Exotic, Feb. 2007, Vol. 10 No. 1, 29-35
Spain: The Cloth Doll Boom of the 1920s and 30s, Feb. 2009, Vol. 12 No. 1, 26-30
Alsatian Dolls, July 2013, Vol. 16 No. 6, 33-40
Doll Treasures from Brittany, France, Nov. 2014, Vol. 17 No. 10, 45-53
French Art Dolls
French Dolls from World War I, Nov. 2009, Vol. 12 No. 10, 25-31, 59
Jean Ray's Artist Dolls, Sept. 2011, Vol. 14 No. 8, 47
Nénette & Rintintin: Poulbot's Children and Lazarska's Fetishes, July 2015, Volume 18, Number 6, 28-34

Freundlich
Freundlich Novelties, April 2003, Vol. 6 No. 3, 48-49
Frozen Charlottes
April 2010, Vol. 13 No. 3, 28-31
Displaying Your Frozen Charlottes or What to do on a Cold Winter's Day!, September 2015, Volume 18, Number 8, 29-32
- G -
Gaithersburg, MD Doll Show
March 1999, Vol. 2 No. 3, 72-73
Vol. 3 No. 3, 55-57
May 2001, Vol. 4 No. 4, 54-57
Feb. 2002, Vol. 5 No. 1, 60-61
Feb. 2004, Vol. 7 No. 1, 54-58
Jan. 2005, Vol. 7 No. 12, 54-57
Feb. 2007, Feb. 2007, Vol. 10, No. 1
Jan. 2008, Vol. 10 No. 12, 49-51
Jan. 2010, Vol. 12 No. 12, 53-57
August 2010, Vl. 13 No. 7, 54-55
Jan. 2011, Vol. 13 NO. 12, 51-54
May 2011, Vol. 14 No. 4, 50-51
Nov. 2011, Vol. 14 No. 19, 58-59
Feb. 2012, Vol. 15 No. 1, 57-59
July 2012, Vol. 15 No. 6, 74-75
Nov. 2012, Vol. 15 No. 10, 60-62
Jan. 2013, Vol. 15 No. 12, 50-53
Feb. 2014, Vol. 17 No. 1, 56-58
April 2014, Vol. 17 No. 3, 56-57
Feb. 2015, Vol. 18, No. 1, 57-58
August 2015, Volume 18, Number 7, 56-57
January 2016, Volume 18, Number 12, 57-59
August 2016, Volume 19, Number 7, 56-57
January 2017, Volume 19, Number 12, 60
February 2018, Volume 21, Number 1, 58-60
Galluba and Hoffman
Feb. 2010, Vol. 13 No. 1, 47-49
Always in Fashion, July 2014, Vol. 17 No. 6, 37-40
Games
Miniature French Toys and Games, April 2014, Vol. 17 No. 3, 46-51
Gaultier
Fondly Gaultier Part I, March 2009, Vol. 12 No. 2, 19-23 36-41
Fondly Gaultier Part II, April 2009, Vol. 12 No. 2
German Dolls (also see individual makers)
UFDC Special Exhibit, Nov. 2007 Vol. 10 No. 10, 19-24 and 56-61
Waltershausen, Nov. 2000, Vol. 3 No. 8, 35-39
AM 370 and 390, Feb. 2001, Vol. 4 No. 1, 28-30
Sonneberg Doll and Toy Makers, April 2001, Vol. 4 No. 3, 37-41
Puzzling Mold Numbers, May 2001, Vol. 4 No. 4, 20-23
Naughty Child, May 2001, Vol. 4 No. 4, 32-33
Schoenau & Hoffmeister, August 2001, Vol. 4, No. 7, 41-45
Character Dolls of Gebruder Heubach and Ernst Heubach, Sept. 2001,
Vol. 4 No. 8, 46-50
Gebruder Heubach, Jan. 2002, Vol. 4 No. 12, 35-40
Gebruder Heubach, Feb. 2002, Vol. 5 No. 1, 27-31
Kammer and Reinhardt and J. D. Kestner, March 2002, Vol. 5 No. 2, 28-31
Heinrich Handwerck, March 2002, Vol. 5 No. 2, 41-43
German Doll Making, April 2002, Vol. 5 No. 3, 37-40, 49
Schoenau & Hoffmeister, May 2002, Vol. 5 No. 4, 28-29, 44
A. W. Fr. Kister, June 2002, Vol. 5 No. 5, 27-31
From Puppen to Poupee, June 2002, Vol. 5 No. 4, 34-36
German Porcelain Dolls 1836-2002, August 2002, Vol. 5 No. 7, 47-50
Molds 1448 and IV, April 2003, Vol. 6 No. 3, 27-31
Character Dolls, NADDA Exhibit, Jan. 2005, Vol. 7 No. 12, 30-36
Special Dolls to Teach a Little Princess, June 2005, Vol. 8 No. 5, 25-28
Different Dolls of the Same Kind, March 2006, Vol. 9, No. 2, 49-52
Armand Marseille's Rare Character Children, May 2008, Vol. 11 No. 4, 19-24
German Character Dolls with Painted Eyes, July 2008, Vol. 11 No. 6, 28-32
German Character Dolls with Glass Eyes, August 2008, Vol. 11 No. 7, 28-32
The Brothers Heubach, Oct. 2008, Vol. 11 No. 9, 35-38
Two German Christmas Dolls from 1903, Dec. 2008, Vol. 11 No. 11, 47-49
Heubach Girls Show Off Their Hairstyles, Jan. 2009, Vol. 1 No. 12, 31
Simon & Halbig's 1300 Series, May 2009, Vol. 12, No. 4, 19-23
Kammer & Reinhardt's Gramophone Doll, March 2011, Vol 14 No. 2, 17-20
The World of Kley & Hahn Dolls, May 2009, Vol. 12 No. 4, 33-36
Quality French Bebes with a German Touch, June 2009, Vol. 12 No. 5, 25-29
The Gorgeous Gals of Gebruder Heubach, June 2009, Vol. 12 No. 5, 33-36
The Character Dolls of Theodor Recknagel, June 2009, Vol. 12 No. 5, 38-43
Sonneberg-Type Papier Mache Hard Composition Dolls, July 2009, Vol. 12 No. 6, 34-36
Character Dolls of Catterfelder Puppenfabrik, August 2009, Vol. 12 No. 7, 19-23
Kammer and Reinhardt Cloth Caricature Dolls, Dec. 2009, Vol. 12 No. 11, 40-42
A Suitcase Full of Treasures, Dec. 2009, Vol. 12 No. 11, 69-72
The Original It Girl, Jan. 2010, Vol. 12 No. 12, 36-40
Gebruder Bing Toy Company, March 2010, Vol. 13 No. 2, 38-41
German All Bisques Part I, July 2010, Vol. 13 No. 6, 53-59
Kestner, the Prolific Part I, August 2010, Vol. 13 No. 7, 19-24
German Doll Treasures in Pioneer Nevada, August 2010, Vol. 13 No. 7, 50-52
German All Bisque Dolls Part II, Sept. 2010, Vol. 13 No. 8, 33-37, 47-51
Kestner, the Prolific Part II, Oct. 2010, Vol. 13 No. 9, 39-45
Käthe Kruse Look-Alikes, Nov. 2010, Vol. 13 No. 10, 60-65
Kestner's Bru Type, March 2011, Vol. 14 No. 2, 55-57
Simon Halbig The Early Years, May 2011, Vol. 14 No. 4, 45-48
Dolls of Sonneberg, June 2011, Vol. 14 No. 5, 18-23
The Other 100 Series, Oct. 2011, Vol. 14 No 9, 19-23
Simon Halbig, Jan. 2012, Vol. 14 No. 12, 27-31
Dressel, Cuno and Otto, Munich Art Type Dolls, August 2012, Vol. 15 No. 7, 18-21
Flapper Ladies, August 2012, Vol. 15 No. 7, 34-39
Early Simon and Halbig Dolls, Jan. 2013, Vol. 15 No. 12, 21-29
K*R 104, Jan. 2013, Vol. 15 No. 12, 58-59
Dotty Darling, Feb. 2013, Vol. 16 No. 1, 41-44
A Simon Halbig Fashion Doll, Feb. 2014, Vol. 17 No. 1, 22-26
Attic Treasures, March 2014, Vol. 17 No. 1, 36-42
K*R Celluloid Peter and Marie, March 2014, Vol. 17 No. 2, 45-47
Edwardian Lady Dolls and Their Wardrobes, April 2014, Vol. 17 No. 3, 19-23
Dressing Dolls in the Sonneberg Area Part I, April 2014, Vol. 17 No. 3, 30-36
Dressing Dolls in the Sonneberg Area Part II, May 2014, Vol. 17 No. 4, 44-49
The Heinrich Handwerck Story, June 2014, Vol. 17 No. 5, 46-48
Dressing Dolls in the Waltershausen Area, Vol. 17 No. 6, 22-27
Playing with Googlies, July 2014, Vol. 17 No. 6, 43-49
Oh, You Great Big Beautiful Doll!, Dec. 2014, Vol. 17 No. 11, 23-29
Identification and Dating of Kling Parian Shoulder Heads, Jan. 2015 Vol. 17 No. 12, 47-53
UFDC, The Many Faces of German Dolls, Jan. 2015, Vol. 17 No. 12, 54-59
Identification and Dating of Kling Parian Shoulder Heads - Part Two, March 2015, Vol. 18, No. 2, 43-47
From Elegant Edwardian to Fascinating Flapper; Mold 1469 by Simon and Halbig, April 2015, Vol. 18, No. 3, 51-55
Oh, boy! June 2016, Volume 19, Number 5, 18-28
If Dolls Could Talk: An Investigation of Some Mysterious Friends, April 2017, Volume 20, Number 3
Inge and Harald, from the Haralit Art Dolls, July 2017, Volume 20, Number 6, 53-55
Post War Dolls -- Frau Margarite Uebel, July 2017, Volume 20, Number 6, 46-49
The Endearing Faces of Gebr. Heubach All-Bisque Character Children, August 2017, Volume 20, Number 7, 40-44
Maud, An Antique Doll with Provenance, September 2017,Volume 20, Number 8, 52 and 54
Little Girls with Rosy Cheeks — German Character Dolls, April 2018, Volume 21, Number 3, 20-32
Mabel's Fable, April 2018, Volume 21, Number 3, 56-57
Gesland Company
Mireille and the History of the Gesland Company, April 1999, Vol. 2 No. 4, 44-45
Gibson Girls
Original It Girl, Jan. 2010, Vol. 12 No. 12, 36-40
Ginny
More Than Just a Doll, UFDC Special Exhibit, Feb. 2005, Vol. 8 No. 1, 25-27
The Early History of the Vogue Ginny Dolls, August 2015, Volume 18, Number 7, 27-31
Gladdie
Helen Jensen's Laughing Child, April 2013, Vol. 16 No. 3, 18-21
A Well-Dressed Child, May 2013, Vol. 16 No. 4, 50-52
Golliwogs
Sept. 2001, Vol. 4 No. 8, 57-60
Googlies
Elite Googlies, September 2002, Vol. 5 No. 8, 28-30
Googlies Part I, May 2003, Vol. 6 No. 4, 19-26
Googlies Part II, August 2003, Vol. 6 No. 7, 10-23,
Puppenhausmuseum Basel, Oct. 2009, Vol. 12 No. 9, 19-26
Playing with Googlies, July 2014, Vol. 17 No. 6, 43-49
Gottschalk
1910 Gottschalk Dollhouse, March 2010, Vol. 13 No. 2, 25-28
Greiner
American Papier Mache Industry, Dec./Jan. 2000-2001, Vol. 3 No. 9, 28-31
A Treasure Hunt, July 2002, Vol. 5 No. 6, 58-59
Everything But Bisque, a UFDC Exhibit, Jan. 2004, Vol. 6 No. 12, 35-40, 64-66
The Philadelphia Story Special Exhibit, Feb. 2006, Vol. 9 No. 1, 46-49
The King of American Papier Mache, Jan. 2010, Vol. 12 No. 12, 27-31
- H -
Hacker, Christian
Shops of Christian Hacker, Jan. 2010, Vol. 12 No. 12, 42-45
Half Dolls
Half Sisters, Jan./Feb. 1999, Vol. 2 No. 2, 32-34
The Teepuppen of Carl Thieme, June 2005, Vol. 8 No. 5, 32-36
Half Dolls, Feb. 2009, Vol. 12 No. 1, 14, 58-59
Porcelain Half Dolls, Dec. 2012, Vol. 15 No. 11, 44-46
Hertwig's Half-Bisque Dolls - Scarce But Rewarding, January 2017, Volume 19, Number 12, 32-37
Halopeau
Haunting H Bebe, May 2005, Vol. 8 No. 4, 35-39
Handkerchiefs
Handkerchiefs and Dolls, Feb. 2014, Vol. 17 No. 1, 50-53
Handmade Dolls
Desperation Dolls, January 2017, Volume 19, Number 12, 46-49
Handwerck
March 2002, Vol. 5 No. 2, 41-43
Elite Googlies, September 2002, Vol. 5 No. 8, 28-30
August 2006, Vol. 9 No. 7, 47-49
Two German Christmas Dolls from 1903, Dec. 2008, Vol. 11 No. 11, 47-49
The Heinrich Handwerck Story, June 2014, Vol. 17 No. 5, 46-48
HEbee/SHEbee
Horsman, HEbee/SHEbee and the Elusive Charles Twelvetrees, March 2015, Vol. 18, No. 2, 32-35
Hedwig Dolls
May 2013, Vol. 16 No. 4, 45-49
Heizer, Dorothy
The Art of Dorothy Heizer, Sept. 23004, Vol. 7 No. 8, 18-21
Hertel and Schwab
Googlies, May 2003, Vol. 6 No. 4, 19-26
Hertwig
Theriault Preview, Dec./Jan. 2000-2001, Vol. 3 No. 9, 43-46
Petite Pets: Anthropomorphized All-Bisque Animals by Hertwig and Company, April 2007, Volume 10, Number 3, 59-62
Hertwig's Half-Bisque Dolls - Scarce But Rewarding, January 2017, Volume 19, Number 12, 32-37
Heubach, Gebruder
Character Dolls of Gebruder Heubach and Ernst Heubach, Sept, 2001,
Vol. 4 No. 8, 46-50
Gebruder Heubach, Jan. 2002, Vol. 4 No. 12, 35-40
Gebruder Heubach, Feb. 2002, Vol. 5 No. 1, 27-31
Gebruder and Ernst, Feb. 2003, Vol. 6 No. 1, 50-52
Heubach Theriault Preview, May 2003, Vol. 6 No. 4, 43-45
Googlies Part II, August 2003, Vol. 6 No. 7, 19-23, 53-55
Identifying "Un-Identifiable Heubachs", April 2005, Vol. 8 No. 3, 20-25, 52-53
American Copies of Heubach Dolls, Dec. 2005, Vol. 8 No. 11, 47-50
A Tale of Two Dolls, June 2006, Vol. 9 No. 5, 41-43
Where is Rosabelle? August 2008, Vol. 11 No. 7, 53-56
The Brothers Heubach, Oct. 2008, Vol. 11 No. 9, 35-38
Heubach Girls Show Off Their Hairstyles, Jan. 2009, Vol. 1 No. 12, 31
The Gorgeous Gals of Gebruder Heubach, June 2009, Vol. 12 No. 5, 33-36
Kestner's Rare Screaming Baby, Feb. 2011, Vol. 14 No. 1, 51-53
Christmas Mischief, Dec. 2011, Vol. 14 No. 11, 54-55
Hitt, Oscar
Googlies, May 2003, Vol. 6 No. 4, 19-26
Historic Dolls
Collectibles: Historic Dolls, February 2018, Volume 21, Number 1, 10 and 12
French Royal Court Dolls, March 2018, Volume 21, Number 2, 36-39
Hoffmann, Solomon
March 2003, Vol. 6 No. 2, 39-42
Holidays
Nov./Dec. 1998, Vol. 2 No. 1, 59-62
Jan./Feb. 1999, Vol. 2 No. 2, 26-28
The Collection of Bob Merck, Dec./Jan. 2000-2001, Vol. 3 No. 9, 21-26
Fantasy Vignettes by Dolph Gotelli, Dec. 2001, Vol. 4 No. 11, 28-31
Santons of Provence, Dec. 2001, Vol. 4 No. 11, 36-42
Easter Parade, April 2002, Vol. 5 No. 3, 28-31
Christmas Fairies, Dec. 2014, Vol. 17 No. 11, 32-36
Horsman
Horsman's Sweetheart, Dec. 2001, Vol. 4 No. 11, 44-47
A Visit Back in Time, Sept. 2004, Vol. 7 No. 8, 30-33
Baby Buttercup, Feb. 2005, Vol. 8 No. 1, 37-39
Unusual Early Horsman Dolls, March 2006, Vol. 9 No. 2, 31-35
Early Dolls by E. I . Horsman, April 2008, Vol. 11 No. 3, 41-43
Peterkin, Dec. 2008, Vol. 11 No. 11, 43-45
Colorful Composition Novelty Dolls, April 2011, Vol. 14 No. 3, 31-33
Horsman's Raggedy Man, August 2011, Vol. 14 No. 7, 49-51
Patty Cake, Jan. 2012, Vol. 14 No. 12, 40-41
Horsman, HEbee/SHEbee and the Elusive Charles Twelvetrees, March 2015, Vol. 18, No. 2, 32-35
Hoyer, Mary
A Mary Hoyer Treasure, August 2001, Vol. 4 No. 7, 35-40
Huret (also see Fashion Dolls)
Sept. 1998. Vol. 1 No. 7, 35-42
Jan./Feb. 1999, Vol. 2 No. 2, 55-59
May/June 1999, Vol. 2 No. 5, 33-38
May/June 2000, Vol. 3 No. 4, 34-36
June 2002, Vol. 5 No. 5, 20-24
March 2004, Vol. 7 No. 2
The Birth of the Huret, May 2011, Vol. 14 No. 4, 18-24
A Classic Huret Dress, July 2013, Vol. 16 No. 6, 24-30
- I -
Ideal (also see American-made Dolls)
Ideal's Composition Dolls, July 2001, Vol. 4 No. 6, 50-53
Flexy Doll, Jan. 2003, Vol. 5 No. 12, 50-51
Flossie Flirt, April 2007, Vol. 10 No. 3, 51-55
Uneeda Kid and Zu-Zu Kid, Feb. 2008, Vol. 11 No. 1, 45-48
Flexy Dolls, March 2013, Vol. 16 No. 2, 41-43
Pierre Imans
The Mannequins of Pierre Imans, November 5, 2016, October 2016, Volume 19, Number 9, 28-35


Indian Dolls
Native Dolls of North America, April 1999, Vol. 2 No. 4, 25-31
The Story of Mary & Mary & the Indian Dolls, March 2016, Volume 19, Number 2, 54-57
Internet
Untangling the World Wide Web of Dolls, Feb. 2005, Vol. 8 No. 1, 53-56


Italian
Beyond Lenci, Samy Odin on the Other Italians, July 2017, Volume 20, Number 6, 26-29 and 34-44
- J -
Japanese Dolls
The Doll Who Met Queen Victoria, Jan. 2007, Vol. 9 No. 12, 37-40
Japanese Dolls of Beautiful Women, August 2007, Vol. 10 No. 7, 19-24
Gosho Ningyo Palace Dolls, June 2008, Vol. 11 No. 5, 27-31, 48-51
Takeda-Ningyo, Oct. 2009, Vol. 12, No. 9, 37-43
Friendship Dolls of 1927, April 2010, Vol. 13 No. 3, 36-42
Silk Mask Dolls, April 2012, Vol. 15 No. 3, 38-41
Konnichiwa! Japanese Doll making Influence in Europe and the U.S., January 2016, Volume 18, Number 12, 40-45
Evaluating Japanese Ichimatsu Dolls, March 2017, Volume 20, Number 2, 20-24 and 50-54
The Japanese Doll Festival, March 2017, Volume 20, Number 2, 48-49
The Birth of the Japanese Art Doll, November 2017, Volume 20, Number 10, 40-51
Joanny, Joseph Louis
Vol. 1 No. 1, Nov./Dec. 1997, 28-31
Jacob-Petit
A French China, May 2013, Vol. 16 No. 4, 41-42
Jumeau
Philadelphia's World Exposition Dolls, Feb. 2002, Vol. 5 No. 1, 20-25 and 52-57
Early Dolls, Part I , July 2002, Vol. 5 No. 6, 33-37
Early Dolls Part II, Sept. 2002, Vol. 5 No. 8, 49-52
An Undocumented Model, April 2004, Vol. 7 No. 3, 19-21
Elizabeth, August 2004, Vol. 7 No. 7, 46-49
Marquis & Commander, Two French Bebes in Original Outfits, Sept. 2004, Vol. 7 No. 8, 24-27
The Character Bebes of Jumeau, March 2005, Vol. 8 No. 2, 27-32
Paris Bebe - Jumeau or Danel?, Nov. 2004, Vol. 7 No. 10, 38-35
Two Dolls for Two Little Girls, Feb. 2005, Vol. 8 No. 1, 30-32
A Smiling Jumeau 203 and Her Wardrobe, July 2005, Vol. 8 No. 6, 38-42
Jumeau Triste, Jan. 2006, Vol. 8 No. 12, 48-50
The Creativity of Jumeau, UFDC Exhibit, Nov. 2006, Vol. 9 No. 10, 35-40
Ella, Jan. 2009, Vol. 11 No. 12, 19-25
Emile and Albert and the "Unique" Bebe, June 2011, Vol. 14 No. 5, 25-30
The "Singer" Jumeau, August 2011, Vol. 14 No. 7, 30-32
A Jumeau Journey, Feb. 2012, Vol. 15 No. 1, 18-23
Rare 201 Character, Nov. 2014, Vol. 17 No. 10, 18-21
Sleeping Bebes by Jumeau, Nov. 2014, Vol. 17 No. 10, 23-26
Mrs. Ernestine Stéphanie Jumeau, Empress of the Bébé Jumeau Fashion, February 2016, Volume 19, Number 1, 32-36
L'Etourdi - The Story of an Exceptional Jumeau Bébé, November 2017, Volume 20, Number 10, 26-32


Just Me
The Early History of the Vogue Ginny Dolls, August 2015, Volume 18, Number 7, 27-31


- K -
Kamkins
April 1998, Vol. 1 No. 4, 19-26
Kammer and Reinhardt, March 2002, Vol. 5 No. 2, 28-31
Kamkins Babies, Oct. 2002, Vol. 5 No 9, 30-34
A Precious Pair, Feb. 2002, Vol. 6 No. 1, 34-36
Kamkins In Summer, August 2004, Vol. 7 No. 7, 24-29
Kamkins In Winter, Feb. 2005, Vol. 8 No. 1, 18-22
Hands Across the Ocean, UFDC Special Exhibit, May 2005, Vol. 8 No. 4, 48-49
Kammer and Reinhardt
Mold 100, Feb. 2002, Vol. 6 No. 1, 41-43
Googlies, May 2003, Vol. 6 No. 4, 19-26
Cloth Caricature Dolls, Dec. 2009, Vol. 12 No. 11, 40-42
Kaiser Babies, April 2010, Vo. 13 No. 3, 57-59
Kammer & Reinhardt's Gramophone Doll, March 2011, Vol. 14 No. 2, 17-20
K * R 104, Jan. 2013, Vol. 15 No. 12, 58-59
K*R Celluloid Peter and Marie, March 2014, Vol. 17 No. 2, 45-47
Rare Character Dolls at Bonhams, Sept. 2014. Vol. 17 No. 8, 21-23
The "Highly Original Character Dolls" of Kammer & Reinhardt, February 2018, Volume 21, Number 1, 52-56
Kaonis
The Kaonis Collection A Tribute to Whimsy and Wonderment, February 2018, Volume 21, Number 1, 13-24
Käthe Kruse
Baby Bauz, Sept. 1998, Vol. 1 No. 7, 28-31
Sept. 2002, Vol. 5 No. 8, 21-26, 56-59
Everything But Bisque, a UFDC Exhibit, Jan. 2004, Vol. 6 No. 12, 35-40, 64-66
UFDC Exhibit: The Hand Follows the Heart, Jan. 2005, Vol. 7 No. 12, 40-46
The Pied Piper of Hamelin, June 2007, Vol. 10. No. 5, 19-22
Käthe Kruse Look-Alikes, Nov. 2010, Vol. 13 No. 10, 60-65
Feb. 2012, Vol. 15 No. 1, 32-33
Käthe Kruse Museum, September 2015, Volume 18, Number 8, 46
Playing with the Christmas Doll, October 2015, Volume 18, Number 9, 62-63
Kestner
Kestner Legacy, July/August 2000, Vol. 3 No. 5, 45-49
The Kestner Legacy, July 2001, Vol. 4 No. 6, 37-40
J. D. Kestner, March 2002, Vol. 5 No. 2, 28-31
From the Doll Cabinet, May 2002, Vol. 5 No. 4, 21-26
Googlies Part I , May 2003, Vol. 6 No. 4
Googlies Part II, August 2003, Vol. 6 No. 7, 56-57
A Doll with a Difference, May 2005, Vol. 8 No. 4, 51-54
Kestner, the Prolific Part I, August 2010, Vol. 13 No. 7, 19-24
Kestner, the Prolific Part II, Oct. 2010, Vol. 13 No. 9, 39-45
Kestner's Rare Screaming Baby, Feb. 2011, Vol. 14 No. 1, 51-53
Kestner's Bru Type, March 2011, Vol. 14 No. 2, 55-57
UFDC Special Exhibit, April 2012, Vol. 15 No. 3, 18-25
Doll Collectors of America Exhibit, April 2013, Vol. 16 No. 2, 30-41
The Unusual Papier Mache Dolls of J.D. Kestner, Jr. Dec. 2014, Vol. 17 No. 11, 18-22
Which is Which?, January 2016, Volume 18, Number 12, 30-33
Kewpies
March 2013, Vol. 16 No. 2, 28-33
The Kuddle Kewpie, Ddc. 2013, Vol. 16 No. 11, 36-41
Kewpies Redux - Collector Blain Kukevitch updates us on his Obsession, February 2017, Volume 20 Number 1, 14-24

Kimport
Doll Talk, March 2016, Volume 19, Number 2, 22-23


Kinemin Dolls
Hansel and Gretel, March 2011, Vol. 14 No. 2, 50-53
Kintzbach
Oct. 2006, Vol. 9 No. 9, 18-21


Kish, Helen
Collectibles: Helen Kish – Artist and Doll-Maker, May 2017, Volume 20, Number 4, 20-21


Kister, A.W. Fr.
Glazed Porcelain Dolls, June 2002, Vol. 5 No. 5, 27-31
Parian-type and Bisque, July 2002, Vol. 5 No. 6, 45-48
Kley & Hahn
World of Kley & Hahn Dolls, May 2009, Vol. 12 No. 4, 33-36
Kling
Identification and Dating of Kling Parian Shoulder Heads, Jan. 2015, Vol. 17 No. 12, 47-53
Identification and Dating of Kling Parian Shoulder Heads - Part Two, March 2015, Vol. 18, No. 2, 43-47
Knickerbocker Toy and Doll Co.
Bumsteads, Sept. 2010, Vol. 13 No. 8, 24-25
Knoch, Gebruder
Googlies, May 2003, Vol. 6 No. 4, 19-26
Kuhnlenz
A Doll with Many Faces, Feb. 2005, Vol. 8 No. 1, 42-45
- L -

La Poupee Modele
Sewing with Faerie Fingers - The Charm of La Poupee Modele, August 2005, Vol. 8 No. 7
The Legacy of Lily, April 2006, Vol. 9 No. 3, 19-26
Laminated Cloth
Simon Auguste Brouillet-Cacheleux: Search for an Early Antique Doll, December 2017, Volume 20, Number 11, 36-41
Lancaster Rags
Everything But Bisque, a UFDC Exhibit, Jan. 2004, Vol. 6 No. 12, 35-40, 64-66
Lancaster Rag Dolls, March 2007, Vol. 10, No. 2, 29-35
More on Lancaster Rags & Their Original Clothes, April 2009, Vol. 12 No. 3, 26-31
Lazarska
Nénette & Rintintin: Poulbot's Children and Lazarska's Fetishes, July 2015, Volume 18, Number 6, 28-34
Leather Dolls
Leather Babies, Jan./Feb. 1998, Vol. 1. No 2, 51-53
French Caribbean Dolls, August 2014, Vol. 17 No. 7, 34
Oh What A Tangled "Webb" We Weave, July 2016, Volume 19, Number 6, 32-37
Moroccan Art Dolls: The 1930's Leather Figures of Gertrude Arnell and her Artisans, January 2018, Volume 20, Number 12, 28-33
Lee Ed
A KPM China Doll, Nov. 2005, Vol. 8 No. 10, 39-40
Lefebvre, Alexandre
An Investigation into the Doll Bodies of Alexandre Lefebvre, January 2017, Volume 19, Number 12, 40-43
Lenci
Lenci: The First 80 Years, Sept. 1998, Vol. 1 No.7, 19-26
Boudoir Dolls, July/Aug. 1999, Vol. 2 No. 6, 39-45
Accessories, May 2001, Vol. 4 No. 4, 44-47
Rare Dolls, Nov. 2001, Vol. 4 No. 10, 18-24
Rare Lenci Catalog, August 2002, Vol. 5 No. 7, 35-39
Prosperity Baby, Nov. 2002, Vol. 5 No. 10, 48-53
Jackie Coogan and Lenci's Kid, Feb. 2002, Vol. 6 No. 1, 46-49
Everything But Bisque, a UFDC Exhibit, Jan. 2004, Vol. 6 No. 12, 35-40, 64-66
In The Closed Down Lenci Factory, July 2004, Vol. 7 No. 6, 55-59
Little Lenci, Dec. 2004, Vol. 7 No. 11, 29-33
Hands Across the Ocean, UFDC Special Exhibit, March 2005, Vol. 8 No. 2, 46-50
Lenci Miniatures from the Regions of Italy, Sept. 2006, Vol. 9 No. 8, 54-59
Series 300 Boys, Jan. 2007, Vol. 9 No. 12, 43-48
Black Lenci Dolls, June 2007, Vol. 10 No. 5, 43-47
The Earliest Lenci Miniatures, August 2007, Vol. 10 No. 7, 26-31
The Lenci-Anili Connection, May 2008, Vol. 11 No 4, 26-32
The Other Little Lenci, April 2009, Vol. 3 No. 1, 48-54
Cabinet-Sized Lencis, Jan. 2011, Vol. 13 No. 12, 29-33
Salome, Jan. 2012, Vol. 14 No. 12, 56-57
Lenci-Likes, March 2012, Vol. 15 No. 2, 43
Rare Lencis, July 2012, Vol. 15 No. 6, 24-30
110 and 149 Series, June 2013, Vol. 16 No. 5, 27-33
The Littlest Lencis, June 2014, Vol. 17 No. 5, 32-36
Magali Lenci-Type Dolls, May 2015, Vol. 18, No. 4, 37-42
Seasons: A Vintage Work of Art in Felt by Nancy Lazenby, June 2015, Vol. 18, No. 5, 45-51
Bambole Lena, in the Shadow of Lenci, July 2016, Volume 19, Number 6, 51-54
Lenci Novelty Items, September 2016, Volume 19, Number 8, 45-51
It's About Tyme, April 2017, Volume 20, Number 3
Beyond Lenci, Samy Odin on the Other Italians, July 2017, Volume 20, Number 6, 26-29 and 34-44
Rudolph Valentino's Mystery 'Lady in Black', October 2017, Volume 20, Number 9, 40-43
Lily (also see Fashion Dolls)
Legacy of Lily, April 2006, Vol. 9 No. 3, 19-26
Luce, William Blake
Hingham Miniatures, Sept. 2014, Vol. 17 No. 8, 43-46
- M -
Madame Alexander
Mystery Dolls, July 2012, Vol. 15 No. 6, 49
Dean's Dolls, November 2016, Volume 19, Number 10, 52-58
Madame Alexander and the First Ladies of Washington, January 2017, Volume 19, Number 12, 24-29
Magali
Magali Lenci-Type Dolls, May 2015, Vol. 18, No. 4, 37-42

Maggie-Bessie
July/August 1998, Vol. 1 No. 6, 32-35
July 2003, Vol. 6 No. 6, 26-27
The Pfohl Sisters and their Maggie Bessie Dolls, Nov. 2006, Vol. 9 No. 10, 20-25
Male Dolls
Dolls for Boys, April 1998, Vol. 1 No. 4, 29-31
Sailor Dolls, November 1999, Vol. 2 No. 8, 40-44
Boys & Their Toys, July/August 2000, Vol. 3 No. 5, 27-34
Boy Dolls of Porcelain, April 2005, Vol. 8 No. 3, 38-41
The Debonair Male Doll, Oct. 2005, Vol. 8 No. 9, 56-59
Men's and Boy's Fashions, Nov. 2007, Vol. 10 No. 10, 49-53
A Male Fashion, May 2010, Vol. 13 No. 4, 21-27
Boy Crazy, August 2015, Volume 18, Number 7, 34-41
Oh, boy! June 2016, Volume 19, Number 5, 18-28
Margaine-Lacroix
March 2013, Vol. 16 No, 2, 19-26
Margot
The "Margot" Mystery, August 2015, Volume 18, Number 7, 19-25 and 50-54
Marionettes
Lago Maggiore, August 2014, Vol. 17 No. 1, 40-43
Marilu
Marilu Doll of Argentina, July 2005, Vol. 8 No. 6, 48-50
My Name is Marilu, May 2012, Vol. 15 No. 4, 36-38
Marottes
Feb. 2004, Vol. 7 No. 1, 35-39
Marque, Albert
Nov./Dec. 1998, Vol. 2 No. 1, 28-30
The Final Years of Albert Marque, Dec. 2001, Vol. 4 No. 11, 56-57
Albert Marque and the Ballets Russes Connection, June 2009, Vol. 12 No. 5, 59-60
A. Marque Look-Alike, Oct. 2011, Vol. 14 No. 9, 31-33
Margaine-Lacroix, March 2013, Vol. 16 No, 2, 19-26
Marseille, Armand
Molds 370 and 390, Feb. 2001, Vol. 4 No. 1, 28-30
Rare Characters with Intaglio Eyes, August 2002, Vol. 5 No. 7, 19-25
Googlies, May 2003, Vol. 6 No. 4, 19-26
Marseille: Prolific Doll Maker, Sept. 2004, Vol. 7 No. 8, 37-41
Flapper Ladies, August 2012, Vol. 15 No. 7, 34-39
Mary Hoyer
Mary Hoyer Dolls, January 2016, Volume 18, Number 12, 34-38
McEwen, Mary
Sept. 2012, Vol. 15 No. 8. 29-33
McHugh, Louise and Brigid
Remembering Dutchie: A Personal Doll Story, January 2018, Volume 20, Number 12, 48-49

Mechanical
Look what I can do Mommy! Mechanical Dolls of Composition, March 2016, Volume 19, Number 2, 46-52
A Whistle and a Shimmy; Clockwork Carnival Dolls of the 1920s, December 2016, Volume 19, Number 11, 43-47


Metal Head Dolls
March 2007, Vol. 10 No. 2, 61-65
Sept. 2007, Vol. 10 No. 8, 50-54
Babs, May 2012, Vol. 15 No. 4, 47-49
Giebeler-Falk, March 2013, Vol. 16 No. 2, 47-53
Michael Lee Dolls
June 2013, Vol. 16 No. 5, 49-52
Mignonnette
Mademoiselle Mignonnette, July 2003, Vol. 6 No. 6, 61-64
Mignonnette and her Wardrobe, Oct. 2003, Vol. 6 No. 9, 20-25
Her History, Wardrobe and Miniature World, a UFDC Exhibit, April 2004, Vol. 7 No. 3, 46-50
Sewing with Faerie Fingers: The Charm of La Poupee Modele, August 2005, Vol. 8 No. 7, 28-34
Sewing with Faerie Fingers: Mignonnettes Bake a Kings Cake, Dec. 2005, Vol. 8 No. 11, 35-39
Sewing with Faerie Fingers: Mignonnettes Celebrate Bastille Day, July 2006, Vol. 9 No. 6, 49-52
May 2013, Vol.16 No. 4, 27-30
Milire, Maurice
June 2014, Vil. 17 No. 5, 38-4
Miniatures (also see Dollhouses and Furnishings)
Early 19th Century German Dollhouse Furniture and Dolls, Jan./Feb. 1998, Vol. 1. No 2, 31-33
The Well Set Table, July/August 1998, Vol. 1 No. 6, 20-25
Rejuvenating the Sezincote Folly, July/August 1998, Vol. 1 No. 6, 27-30
Mott's Miniature Collection, Oct. 1998, Vol. 1 No. 8, 54-55
Dollhouse Bathrooms, September 1999, Vol. 2 No 7, 51-54
Huret Furniture, May/June 2000, Vol. 3 No. 4, 34-36
19th Century Miniature Color Prints of George Baxter, July/August 2000,
Vol. 3 No. 5, 40-42
Beds for Dolls, Nov. 2001, Vol. 4 No. 10, 45-47
Olympia House, June 2003, Vol. 6 No. 5, 46-50
Into The Woods (Vasculums), August 2004, Vol. 7 No. 7, 18-21
Chateau de Vendeuvre, August 2004, Vol. 7 No. 7, 41-44
Tynietoy and the Toy Furniture Shop, April 2005, Vol. 8 No. 3, 43-48
The Dollhouse Jewels of Diessen am Ammersee, August 2005, Vol. 8 No. 7, 55-58
Sewing Tables, Nov. 2007 Vol. 10 No. 10, 27-30
A Passion for Ormolu, March 2006, Vol. 9 No. 3, 30-35
Miniature Silver Playthings, June 2006, Vol. 9 No. 5, 56-59
Time Capsules of Fashion (Faux Bamboo), Nov. 2006, Vol. 9 No. 10, 43-46
Between Friends (Tynietoy) Dec. 2006, Vol. 9 No. 11, 28-34
Toy and Miniature China, March 2007, Vol. 10 No. 2, 57-59
A Lady of Letters, Correspondence Accessories, August 2007 Vol. 10 No. 7, 37-40
Sewing in the Dolls' House, Nov. 2007 Vol. 10 No. 10, 27-30
Black Lace, French Penny Toy Furniture, Jan. 2008 Vol. 10 No. 12, 36-38
Delaware Toy and Miniature Museum, Feb. 2008, Vol. 11 No. 1, 20-25
Strombecker Dollhouse Furniture, March 2008, Vol. 11 No. 2, 48-50
Tynietoy's Elusive Cloth Dollhouse Dolls, April 2008, Vol. 11 No. 3, 35-39
French Lilliputians and German Miniature Dolls, August 2008, Vol. 11 No. 7, 38-41
Identifying Miniature China Dolls 1840s-1900s, Nov. 2008, Vol.11 No. 10, 23-28
Soft Metal Doll Furniture and Accessories, Nov. 2008, Vol. 11 No. 10, 30-33
Identifying Miniature Parian Dolls, 1850s-1900s, April 2009, Vol. 12 No. 3, 41-45
The Preeminent Artwork of Tynietoy Part I, July 2009, Vol. 12 No. 6, 27-31
The Preeminent Artwork of Tynietoy Part II, Sept. 2009, Vol. 12 No. 8, 39-42
La Veilleuse, June 2010, Vol. 13 No. 5, 26-29
Early Hingham Craftsmen Part I, May 2010, Vol. 13 No. 4, 56-60
Early Hingham Craftsmen Part II, June 2010, Vol. 13 No. 5, 42-26
Early Hingham Craftsmen, Part II, August 2010, Vol. 13 No. 7, 36-41
George LeClerc, April 2011, Vol. 14 No. 3, 37-42
Milady's Vanity, April 2011, Vol. 14 No. 3, 52-55
Brooks House, July 2012, Vol. 15 No. 6, 39-44
Ebony & Ormolu, August 2013, Vol. 16 No. 7, 32-38
A Child's Garden of Dreams. Feb. 2014, Vol. 17 No. 1, 39-43
Miniature French Toys and Games, April 2014, Vol. 17 No. 3, 46-51
Bucket Town, June 2014, Vol. 17 No. 5, 10
A Visit with Ann Meehan Part 1, August 2014, Vol. 17 #7, 26-32
Luce, William Blake, Hingham Miniatures, Sept. 2014, Vol. 17 No. 8, 43-46
Doll Treasures from Brittany, France, Nov. 2014, Vol. 17 No. 10, 45-53
A Visit with Ann Meehan Part 1, August 2014, Vol. 17 #7, 26-32
A Visit with Ann Meehan Part 2, Oct. 2014, Vol. 17 No. 9, 31-37
A Visit with Ann Meehan, Part 3, Dec. 2014, Vol. 17 No. 11, 40-47
Mon Plaisir… on the TLC Grand European Tour, April 2015, Vol. 18, No. 3, 37-39
A Special English Town House, April 2015, Vol. 18, No. 3, 41-43
Rare and Unusual Tynietoy Furnishings, May 2015, Vol. 18, No. 4, 48-53
Rare and Unusual Tynietoy Accessories, September 2015, Volume 18, Number 8, 33-38
The Ram's Head House, January 2016, Volume 18, Number 12, 25-29 and 56
Old Paris China, February 2016, Volume 19, Number 1, 29-30 and 56-59
The Crocheted Critters of Carl Horn Nachf and Hertwig and Company, February 2016, Volume 19, Number 1, 38-40
Step Inside An English Victorian Dolls' House, March 2016, Volume 19, Number 2, 26-31
Children's Transferware Dishes, August 2016, Volume 19, Number 7, 38-43
Charming and CHARMED! Restoring an Antique Dollhouse Cottage from Brittany, France, September 2016, Volume 19, Number 8, 22-28
An Unexpected Antique: The Dolls' House That Started My Collection, November 5, 2016, October 2016, Volume 19, Number 9, 38-44
Masterpiece in Miniature: The Thorne Rooms of the Phoenix Art Museum, November 2016, Volume 19, Number 10, 40-44
An Artist's Thoughts on a Wonderful Exhibit in Concord, December 2016, Volume 19, Number 11, 28-34
French Faux Bamboo Doll Furniture, February 2017, Volume 20 Number 1, 46-51
Rooms from the Museum of Childhood, March 2017, Volume 20, Number 2, 46-47
A Journey to a Fantastic World Inside The Mini Time Machine Museum of Miniatures, May 2017, Volume 20, Number 4, 53-58
International Showcase Of Miniature Masterworks From The T/m Museum, June 2017, Volume 20, Number 5, 30 and 32-35
Mint and Boxed
Dec. 2007, Vol. 10 No. 11, 57-60
Molded Hats
Plumed Hats, Nov. 2000, Vol. 3 No. 8, 52-54
Molded Fashion Hats, July 2003, Vol. 6 No. 6, 35-39
Dolls with Molded Hats, Oct. 2006, Vol. 9 No. 9, 25-29
Moravian Dolls
Dolls of Bethlehem, PA, April 2003, Vol. 6 No. 3, 35-39
Everything But Bisque, a UFDC Exhibit, Jan. 2004, Vol. 6 No. 12, 35-40, 64-66
The Stories Polly Heckewelder Dolls Tell, May 2016, Volume 19, Number 4, 46-53
Moroccan
Moroccan Art Dolls: The 1930's Leather Figures of Gertrude Arnell and her Artisans, January 2018, Volume 20, Number 12, 28-33
Moss, Leo
Leo Moss Dolls, March 2018, Volume 21, Number 2, 48-52
Motchmann
July/Aug. 1999, Vol. 2 No. 6, 49-53
Chinese Crying Babies, Enigmas, Motschmanns, Tauflinge, March 2014, Vol. 17 No. 2, 20-26
Mothereau
September 1999, Vol. 2 No 7, 56-57
Munich Art Dolls
NADDA Exhibit, Jan. 2002, Vol. 4 No. 12, 24-30
Theme and Variations on German Character Dolls, UFDC Exhibit, Nov. 2007, Vol. 10 No. 10, 20-21
MUSEUMS
Angel's Attic
March 2003, Vol. 6 No. 2, 31-36
Arizona Doll and Toy
August 2011, Vol. 14 No. 7, 55
Feb. 2015, Vol. 18 No. 1, 59-60
Atwater Kent
Oct. 2005, Vol. 8 No. 9, 14
Brooklyn Museum
Sanitary Fair Doll, March 2010, Vol. 13 No. 2, 14
Coburger Puppenmuseum
Coburger Puppenmuseum the 2015 TLC Grand Tour, July 2015, Volume 18, Number 6, 66-67
Das Kleine Museum
July 2014, Vol. 17 No. 6, 52-54
De Kleine Wereld
July 2007, Vol. 10 No. 6, 30-36
Theriault's Auction, March 2012, Vol. 15 No. 2, 25-27, 55
Delaware Toy and Miniature Museum
Feb. 2008, Vol. 11 No. 1, 20-25
Doll House Museum, Marysville, KS
Oct. 2013, Vol. 16 No. 9, 28-32
Geppi's Entertainment Museum
Sept. 2006, Vol. 9 No. 8, 65
Germanisches National Museum in Nurnberg
Feb. 2015, Vol. 18 No. 1, 44
The Grovian Doll Museum
January 2017, Volume 19, Number 12, 16-22
Heimatsmuseum in Oberammergau
Nov. 2014, Vol. 17 No. 10, 58-59
Il Museo della Bambola Borromeo
Sept. 2014, Vol. 17 No. 8, 36-40
Josselin Doll Museum
Feb. 2003, Vol. 6 No. 1, 20-23
Käthe Kruse Museum
Käthe Kruse Museum, September 2015, Volume 18, Number 8, 46
Little Known Museums of Europe, Oct. 2003, Vol. 6 No. 9, 60-62
Little Known Museums of Europe, May 2004, Vol. 7 No. 4, 52-55
Little Known Museums of Europe, Feb. 2006, Vol. 9 No. 1, 28-30
Lego Foundation Museum
Theriault's Preview, May 2006, Vol. 9 No. 4, 19-22
Lego Foundation, July 2006, Vol. 9 No. 6, 59-61
Legacy Doll Museum
March 2011, Vol. 14 No. 2, 22-28
Mary Merritt Museum (see Barrett Auctions)
August 2005, Vol. 8 No. 7, 39-44
Sept. 2006, Vol. 9 No. 8, 23-26
Nov. 2006, Vol. 9 No. 10, 14, 58-59
March 2007, Vol. 10, No. 2, 23-26
May 2007, Vol. 10 No. 4, 66-68
Mid-Ohio Historial Doll And Toy
August 2013, Vol. 16, No. 7, 56-57
Mingei International Museum
March 1998, Vol. 1 No 3, 43-49
The Mini Time Machine Museum of Miniatures
A Journey to a Fantastic World Inside The Mini Time Machine Museum of Miniatures, May 2017, Volume 20, Number 4, 53-58
Mon Plaisir
Mon Plaisir… on the TLC Grand European Tour, April 2015, Vol. 18, No. 3, 37-39
Morphy Auctions
Dolls and Miniatures, April 2008, Vol. 11 No. 3, 19-23
Museum Hracek
Vol. 3 No. 1, 28-33
Museum der Deutschen Spielzeugindustrie
May 2015, Vol. 18, No. 4, 58-59
Musee National de Monaco
March 2002, Vol. 5 No. 2, 21-26
Musee de la Poupee
Treasures from the Musee de la Poupee, May 2004, Vol. 7 No. 4, 24-26
Musee de la Poupee, Two Dolls for Two Little Girls, Feb. 2005,
Vol. 8 No. 1, 30-32
Musee de la Poupee, Becassine, Bleuette and La Semaine de Suzette, March 2005, Vol. 8 No. 2, 56
Fur Balls, Musee de la Poupee, Feb. 2006, Vol. 9 No. 1, 14
Raynal Dolls, Oct. 2004, Vol. 7 No. 9, 24
Early SFBJ Character Babies, April 2006, Vol. 9 No. 3, 40-44
SFBJ Character Babies From The Twenties, August 2006, Vol. 9 No. 7, 27-32
Wandering Into Wonderland, March 2007, Vol. 10 No. 2, 50-54
The Dolls of Les Petites Filles Modeles, Oct. 2007, Vol. 10 No. 9, 20-26
Nov. 2011, Vol. 14 No. 10, 14
April 2012, Vol. 15 No. 3, 14
The Musée de la Poupée, February 2016, Volume 19, Number 1, 50-53

Museu Romantic
Jan. 2008, Vol. 10 No. 12, 70-72
The National Museum of Toys and Miniatures
November 2015, Volume 18, Number 10, 53-55
International Showcase Of Miniature Masterworks From The T/m Museum, June 2017, Volume 20, Number 5, 30 and 32-35
Old Salem Toy Museum
Barrett Sale, Oct. 2010, Vol. 13 No. 9, 19-23

Phoenix Art Museum
Masterpiece in Miniature: The Thorne Rooms of the Phoenix Art Museum, November 2016, Volume 19, Number 10, 40-44
Philadelphia Doll Museum
Sept. 2011, Vol. 14 No. 8, 56-57
The Princeton Museum
Learning Through Dolls, A Visit To The Princeton Museum, November 2016, Volume 19, Number 10, 36-39
The Princeton Doll and Toy Museum - A tribute to the late Virginia Aris, September 2017,Volume 20, Number 8, 60-61

Puppen and Spielzeug Museum
Ladenburger Spielzeugauktion Sells Doll and Toy Museum, September 2015, Volume 18, Number 8, 18-19
Puppenhausmuseum Basel (Toy Worlds Museum Basle)
Dec. 2008, Vol. 11 No. 11, 64-65
Early Steiff Animals, May 2009, Vol. 12 No. 4, 14, 50
Googlies, Oct. 2009, Vol. 12 No. 9, 19-26
Half Dolls, Feb. 2009, Vol. 12 No. 1, 14, 58-59
Wedding Dolls, May 2010, Vol. 13 No. 4, 61
Kestner, the Prolific, August 2010, Vol. 13 No. 7, 19-24
Hollie Berries, Dec. 2010, Vol. 13 No. 11, 50
Nov. 2011, Vol. 14 No. 10, 14
April 2012, Vol. 15 No. 3, 54
Nov. 2012, Vol. 15 No. 10, 63
Oct. 2014, Vol. 17 No. 9, 40-42
Red Hill Museum
May 2006, Vol. 9 No. 4, 25-29
Rhoads
Sunstein Collection, May 2010, Vol. 13 No. 4
Rosalie Whyel Museum of Doll Art
Sept. 2000, Vol. 3 No. 6, 41-45
Patriotic Dolls, Jan. 2002, Vol. 4 No. 12, 18-22
Early Dolls Made of China July 2005, Vol. 8 No. 6, 27-31
Nov. 2010, Vol. 13 No 10, 38-46
Shelburne
July 2002, Vol. 5 No. 6, 40-43
June 2004, Vol. 7, No. 5, 19-25, 54-56
Spielzeugmuseum, Davos, Switzerland
July 2012, Vol. 15 No. 6, 19-22
Strong Museum
A Celebration of American Dolls, Jan./Feb. 1998, Vol. 1. No 2, 39-43
Mystery Dolls at the Strong Museum, April 2006, Vol. 9 No. 3, 67-68
The Legacy of Margaret Woodbury Strong, May 2011, Vol. 14 No. 4, 37-42
The Doll Museum
Dec./Jan. 2000-2001, Vol. 3 No. 9, 36-40
The Toy Museum at Old Salem
Jan. 2004, Vol. 6 No. 12, 26-30, 56-61
Sept. 2010, Vol. 13 No. 8, 72-75
Toy and Miniature Museum of Kansas City
Feb. 2001, Vol. 4 No. 1, 37-41
"La Fete de Parisiennes" Part I, Oct. 2004, Vol. 7 No. 9, 19-24,
Nov. 2004, Vol. 7 No. 10, 20-27
La Fete de Parisiennes Part II (Toy & Miniature Museum of Kansas City), Jan. 2005, Vol. 7 No. 12, 18-27
UFDC Museum
A Dream Come True - The UFDC's Research and Archival Library and Museum, October 2015, Volume 18, Number 9, 49-53
Wenham
Blue Ribbon Dolls, April 2003, Vol. 6 No. 3, 18-23
A Visit to the Wenham Museum, March 2008, Vol. 11 No. 2, 33-37
Rediscovering Queen Liliuokalani's Doll, Nov. 2013, Vol. 16 No. 10, 28-31
Worthington Historical Society
Feb. 2013, Vol. 16 No. 1, 18-25
Marazzi Dolls
Oct. 2012, Vol. 15 No. 9, 35-37
Mystery Dolls
April 2013, Vol. 16 No. 3, 51-55
- N -
NADDA
Jan./Feb. 1998, Vol. 1. No 2, 35-37
March 1999, Vol. 2 No. 3, 44-46
March 1999, Vol. 2 No. 3, Raggedy Ann Exhibit, 47-49
NADDA in San Francisco, July/August 2000, Vol. 3 No. 5, 61-65
A Century Remembered, Sept. 2000, Vol. 3 No. 6, 47-52
NADDA Wilmington, DE, Dec./Jan. 2000-2001, Vol. 3 No. 9, 65-68
All Bisque Exhibit, Feb. 2001, Vol. 4 No. 1, 51-59
Celebrity Doll Exhibit in LA, March 2001, Vol. 4 No. 2, 20-21
Tea with the Stars, August 2001, Vol. 4 No. 7, 53-56
Nov. 2001, Vol. 4 No. 10, 58-61
Munich Art Doll Exhibit, Jan. 2002, Vol. 4 No. 12
Seattle Show, April 2002, Vol. 5 No. 3, 54-55
August 2002, Vol. 5 No. 6, 55-57
November 2002, Vol. 5 No. 10, 28-29
West Coast Show Preview, April 2003, Vol. 6 No. 3, 52-53
April in Paris, July 2003, Vol. 6 No. 6, 68-69
NADDA in Chicago, Oct. 2003, Vol. 6 No. 9, 54-56
Bleuette Exhibit, Nov. 2003, Vol. 6 No. 10, 43-45
NADDA in Delaware, Dec. 2003, Vol. 6 No. 11, 40-44
Exhibit: Church and Sewing Circle Dolls, Dec. 2003, Vol. 6 No. 11, 42-44
NADDA in Philadelphia, Dec. 2004, Vol. 7 No. 11, 56-57
German Character Dolls Exhibit, Jan. 2005. Vol. 7 No. 12, 30-36
NADDA in Chicago, June 2005, Vol. 8 No. 5, 46-50
As If They Might Speak (Dewees Cochran) August 2005, Vol. 8 No. 7, 50-53
NADDA In Seattle, June 2006, Vol. 9 No. 5, 50-52
NADDA in Chicago, August 2007, Vol. 10 No. 7, 48-49
NADDA in Kansas City, Feb. 2011, Vol. 14, No. 1, 28-29
NADDA, Williamsburg, VA, June 2008, Vol. 11 No. 5, 52-53
NADDA, A is for Annabelle, August 2008, Vol. 11 No. 7, 21-26
NADDA's La Creme de la Creme, June 2009, Vol. 12 No. 5, 54-56
NADDA in Seattle, June 2010, Vol. 13 No. 5, 49-52
Dolls Through the Ages, Dec. 2010, Vol.13 No. 11, 54-59
NADDA in Kansas City, MO, July. 2011, Vol. 14 No. 6, 47-48
NADDA in Bellevue, WA, Dec. 2011, Vol. 14 No. 11, 58-59
NADDA in Boston, August 2012, Vol. 15 NO. 7, 52-57
NADDA in North Carolina, June 2014, Vol. 17 No. 5, 50-54
A Look at the Recent NADDA Show, June 2016, Volume 19, Number 5, 50-51
Spring Fling Doll Event in Kansas City, June 2017, Volume 20, Number 5, 37-40
Nancy Ann Storybook
Feb. 2013, Vol. 16, No. 1, 47-50
May 2013, Vol. 16 No. 4, 32-39
Naples Doll Club
The Naples Doll Club January 20-21, 2017 Annual Doll Show and Sale, April 2017, Volume 20, Number 3
National Doll Festival
Nov. 2007, Vol. 10 No. 10, 36-38
Jan./Feb. 1999, Vol. 2 No. 2, 64-65
Nov. 1999, Vol. 2 No. 8, 70-71
Oct. 2000, Vol. 3 No. 7, 50-51
Oct. 2001, Vol. 4 No. 9, 61-63
Oct. 2002, Vol. 5 No 9, 52-53
Oct. 2003, Vol. 6 No. 9, 74-76
Oct. 2004, Vol. 7 No. 9, 51-53
Oct. 2005, Vol. 8 No. 9, 60-63
Oct. 2006, Vol. 9 No. 9, 52-55
Nov. 2007, Vol. 10 No. 10, 36-38
Oct. 2008, Vol. 11 No. 9, 63-65
Oct. 2009, Vol. 12 No. 64-67
Oct. 2010, Vol. 13 No. 9, 31-34
Sept. 2011, Vol. 14 No. 8, 53-55
Oct. 2012, Vol. 15, No. 9, 57-59
Nov. 2013, Vol. 16 No. 10, 50-51
Oct. 2014, Vol. 17 No. 9, 56-57
October 2016, Volume 19, Number 9, 60-61
October 2017, Volume 20, Number 9, 30-31
Native American Dolls
May 2010, Vol. 13 No. 4, 46-53
The Exotic Native American Bisque, August 2017, Volume 20, Number 7, 34-38
Nicette
April 2007, Vol. 10 No. 3, 29-33, 64-67
Lenci-Type by Nicette, Nov. 2014, Vol. 17 No. 10, 32-41
Nippon
Bisque-Headed Dolls, April 2001, Vol. 4 No. 3, 48-53
Celluloid Characters, Oct. 2001, Vol. 4 No. 9, 57-60
All Bisque, April 2002, Vol. 5 No. 3, 45-49
Nineteenth-Century Doll Industry
A Timeline of Important Events, April 2004, Vol. 7 No. 3, 34-41
Northern Ohio Doll Show
Northern Ohio Doll Show, August 2016, Volume 19, Number 7, 58

- O -
Old Pretenders
Dec. 2003, Vol. 6 No. 11, 38-39
April 2008, Vol. 11 No. 3, 50-51
Responsible Restoration, March 2009, Vol. 12 No. 2, 48-51
June 2010, Vol. 13 No. 5, 12
The Art of Costuming, May 2011, Vol. 14 No. 4, 53

OOAK (One of a Kind)
Marie Vassilief "Little Me" Portrait Dolls, December 2016, Volume 19, Number 11, 20-26
Originality
The All Original, Myth or Fact, Oct. 2001, Vol. 4 No. 9, 19-23
Ormolu
A Passion for Ormolu, March 2006, Vol. 9 No. 3, 30-35

- P -
Paper Dolls
Dennison and Friends, Sept. 2001, Vol. 4 No. 8, 39-44
Transformation Paper Doll, July 2002, Vol. 5 No. 6, 26-28, 61
Lady Flora, August 2002, Vol. 5 No. 7, 28-30, 59-61
Paper Dolls in La Poupee Modele, March 2008, Vol. 11 No. 2, 20-23, 52-55
Nestle Paper Dolls, June 2008, Vol. 11 No 5, 35-39
August 2009, Vol. 12 No. 7, 39-45
Pantin, July 2010, Vol. 13 No. 6, 71-74
Papier-Mache
Flirty-eyed, Jan./Feb. 1998, Vol. 1 No. 2, 19-21
Early Shoulder-Heads, Feb. 2001, Vol. 4 No. 1, 21-24
A Biedermeier Period Doll w/Trousseau, March 2001, Vol. 4 No. 2, 33-36
Papier Mache Dolls, Sept. 2002, Vol. 5 No. 8, 39-42
A Young Lady from Provence, Nov.. 2002, Vol. 5 No. 10, 20-24
Everything But Bisque, a UFDC Exhibit, Jan. 2004, Vol. 6 No. 12, 35-40, 64-66
The Philadelphia Story Special Exhibit, Feb. 2006, Vol. 9 No. 1, 46-49
Floria: A Provincial Perspective, April 2007, Vol. 10 No. 3, 20-27
Edwina Fallis Toy Shop, March 2011, Vol. 14, No. 2, 38-41
Early French Papier Mache Dolls, Feb. 2009, Vol. 12 No. 1, 19-24
Amazing Amanda, Feb. 2009, Vol. 12 No 1, 35-37
Discovering a Pit Brow Lass, Feb. 2009, Vol. 12 No. 1, 38-40
Sonneberg-Type Papier Mache Hard Composition Dolls, July 2009, Vol. 12 No. 6, 34-36
The King of American Papier Mache, Jan. 2010, Vol. 12 No. 12, 27-31
June 2010, Vol. 13 No. 5, 54-57
Early Dolls, Jan. 2011, Vol. 13 No. 12, 45-48
June 2013, Vol. 16 No. 5, 36-43
Miss Winnie, Dec. 2013, Vol. 16 No. 11, 19-23
La Poupee Bien Elevee, The Joys of Cross-Collecting, March 2014, Vol. 17 No. 2, 28-33
The Unusual Papier Mache Dolls of J.D. Kestner, Jr. Dec. 2014, Vol. 17 No. 11, 18-22
Boy Crazy, August 2015, Volume 18, Number 7, 34-41
Papier-mâché - A Common Material, May 2016, Volume 19, Number 4, 30-39
Northern Exposure - Historical Rarities from Labrador, June 2017, Volume 20, Number 5, 58-60
Maud, An Antique Doll with Provenance, September 2017,Volume 20, Number 8, 52 and 54
Leo Moss Dolls, March 2018, Volume 21, Number 2, 48-52
Parians
Parians with Glass Eyes, March 1998, Vol. 1 No 3, 51-56
Plumed Hats, Nov. 2000, Vol. 3 No. 8, 52-54
May 2002, Vol. 5 No. 4, 37-41
UFDC, Passion for Parians, Feb. 2004, Vol. 7 No. 1, 18-26
Identifying Simon & Hallbig Parian Dolls, July 2006, Vol. 9 No. 6, 33-39
Identifying German Chinas and Parians, June 2007, Vol. 10 No. 5, 24-30
Identifying German Chinas and Parians, Part II, Sept. 2007, Vol. 10 No. 8, 36-41
A Study of Similar and Parian Molds, April 2011, Vol. 14 No. 3, 45-49
Identifying Miniature Parian Dolls, 1850s-1900s, April 2009, Vol. 12 No. 3, 41-45
Identifying German Chinas and Parians Part One, August 2009, Vol. 12 No. 7, 37
Identifying German Chinas and Parians, Part Two, Sept, 2009, Vol. 12 No. 8, 51-56
A Parian Peddler, Sept. 2010, Vol. 14 No. 8, 66-68
Identification and Dating of Kling Parian Shoulder Heads - Part Two, March 2015, Vol. 18, No. 2, 43-47
Lee Ed - The Dolls of Leola & Edgar Schulze, December 2015, Volume 18, Number 11, 33-36 and 55-59

Patriotic Dolls
July/August 2000, Vol. 3 No. 5, 52-56
French Patriotic Dolls from World War I, July 2008, Vol. 11 No. 8, 52-57
Patsy
July 2013, Vol. 16 No. 6, 42-46
Patterns
Bridal Gown and Trousseau Pattern, June 2003, Vol. 6 No. 5, 32
Uncut Pattern Dolls, Oct. 2003, Vol. 6 No. 9, 48-50
Mlle. Bereux Wide Collar Spring Frock, March 2004, Vol. 7 No. 2, 32-33
Sewing with Faerie Fingers - The Charm of La Poupee Modele, August 2005, Vol. 8 No. 7
Paris Collection Encore - A Mantle with Open Sleeves, July 2007,
Vol. 10 No. 6, 57-63
The Summer Tunique of Violette d'Epigny, Oct. 2007, Vol. 10 No. 9, 28-29, 56-63
Violette's Chemisette, May 2008, Vol. 11 No. 4, 41-44
A Jaunty Little Affair, Nov. 2008, Vol. 11 No. 10, 39-44
Chiffonette's Capeline, March 2011, Vol. 14, No. 2, 38-41
A Pelerine for Chiffonnette, April 2011, Vol. 14 No. 3, 25-28
Mantelets from Chiffonnete's Trousseau, Nov. 2011, Vol. 14 No. 10, 36-42
Stockings for Chiffonnette, April 2012, Vol. 15 No. 3, 44-47
Stockings for Chiffonnette, May 2012, Vol. 15 # 4, 55
Snoods, August 2012, Vol. 15 No. 7, 23-31
The Marie Antoinette Fantasy, Fichu Pattern Jan. 2013, Vol. 15 No. 12, 38-43, 64-67
A Classic Huret Dress, July 2013, Vol. 16 No. 6, 24-30
Hat, Tippet and Muff for 12-inch Lady Dolls, Jan. 2014, Vol. 16 No. 12, 26-29
A Mid-Nineteenth Century Hood for a Child Doll, July 2014, Vol. 17 No. 6, 55-60
Pleated Pin Cotton Dress, Nov. 2014, Vol. 17 No. 10, 68-69
Frivolities & Whimsicalities From Chiffonnette's Trousseau, July 2015, Volume 18, Number 6, 54-61
From the Hands of Little Ladies - Bleuette's Crochet & Knit Patterns, March 2016, Volume 19, Number 2, 38-44
1877 Jumeau Walking Dress Pattern, May 2017, Volume 20, Number 4, 41-49
Fit for an Empress - A Jacket Pattern to Fit the 15-inch Dollspart Huret Body, January 2018, Volume 20, Number 12, 52-61
Pattern For Nightgown And Slippers, 1927, March 2018, Volume 21, Number 2, 54-58
Peddler Dolls
July 2004, Vol. 7 No. 6, 37-40
A Parian Peddler, Sept. 2010, Vol. 14 No. 8, 66-68
Pennsylvania Dutch
Pennsylvania Dutch Dolls of Marie Polack, Dressmaker, March 2009, Vol. 12 No. 2, 43-46
Perambulators
May 2001, Vol. 4 No. 4, 27-30
Peronne-Lavallee
March 2004, Vol. 7 No. 2
The Legacy of Lily, April 2006, Vol. 9 No. 3, 19-26
Petit et Dumoutier
Marquis & Commander, Two French Bebes in Original Outfits, Sept. 2004, Vol. 7 No. 8, 24-27
Petitcollin
Colette, A Classic Good Girl By Petitcollin, October 2015, Volume 18, Number 9, 41-44
Petzold, Dora
March 2012, Vol. 15 No. 2, 32-37
Phonograph Dolls
American Dolls with Voices, March 1998, Vol. 1 No 3, 27-30
Photographs
Original Owner, May/June 1998, Vol. 1 No. 5, 27-31
Santa's Photo Album, Dec. 1002 Vol. 4 No. 11, 20-25
June 2002, Vol. 5 No. 5, 52-57
Childhood Memories, March 2010, Vol. 13 No. 2, 33-36
A Glimpse into the Past Dolls Showcased Through Early Photography, June 2016, Volume 19, Number 5, 30-35
Pintel
Jan. 2014, Vol. 16 No. 12, 32-37
Pierotti
King Edward VII and Queen Alexandra through the eyes of Charles Ernest Pierotti, February 2016, Volume 19, Number 1, 18-21
Plastic
Hard Plastic Girls in Plaid From the 1950s, April 2018, Volume 21, Number 3, 34-38
Poulbot
Nénette & Rintintin: Poulbot's Children and Lazarska's Fetishes, July 2015, Volume 18, Number 6, 28-34

Pocket Dolls (also see Mignonnettes)
Miniscules, Oct. 2014, Vol. 17 No. 9, 14
Polack, Marie
Marie Polack and Her Pennsylvania Dutch Dolls, Sept. 2005, Vol. 8 No. 8, 52-54
Polichinelle
May 2004, Vol. 7 No. 4, 27-32
Portrait Dolls
Marie Vassilief "Little Me" Portrait Dolls, December 2016, Volume 19, Number 11, 20-26
Postcards
November 1999, Vol. 2 No. 8, 46-48
Poulbot
July 2011, Vol. 14 No. 6, 35-38
Poupees (see Fashion Dolls)
Poupee Modele
Paper Dolls March 2008, Vol. 11 No. 2, 20-23, 52-55
Preservation
The Care and Feeding of Your Dolls, Vol. 3 No. 1, 56-57
The Care and Feeding of Your Dolls, Sept. 2000, Vol. 3 No. 6, 54-56
Puppets
Tales Told In The Dark! Nineteenth Century French Toy Shadow Puppet Theaters, October 2015, Volume 18, Number 9, 35-38


Puss in Boots
A Most Enduring Cat, March 2016, Volume 19, Number 2, 33-36


Putnam, Grace Storey
Baby Love, Jan. 2004, Vol. 6 No. 12, 19-23, 53-55
The Dolls of Grace Story Putnam, Feb. 2008, Vol. 11 No. 1, 39-43
- R -
Raggedy Ann and Raggedy Andy
Raggedy Ann Exhibit (NADDA) March 1999, Vol. 2 No. 3, 47-49
Mollye, July 2001, Vol. 4 No. 6, 31-36
Everything But Bisque, a UFDC Exhibit, Jan. 2004, Vol. 6 No. 12, 35-40, 64-66
Raggedy Ann and Andy, May 2010, Vol. 13 No. 4, 39-44
Raleigh, Jessie McCutcheon
June 2006, Vol. 9 No. 5, 31-37
The Good Fairy, Jan. 2008, Vol. 1, No. 12, 58-59
April 2012, Vol. 15 No. 3, 27-29
Ravca, Bernard and Frances
July 2004, Vol. 7 No. 6, 46-48
Bernard Ravca, Oct. 2011, Vol. 14 No. 9, 61-65
Bernard Ravca's Real People, April 2016, Volume 19, Number 3, 34-44
Ray, Jean
Precursor of the French Art Doll Movement, August 2104, Vol. 17 No. 7, 44-49
Raynal
Raynal and Venus Shirley Temple, Dec. 2003, Vol. 6 No. 11, 47-52
Raynal Dolls at the Musee de la Poupee, Oct. 2004, Vol. 7 No. 9, 24
Raynal Artistic Cloth Dolls, July 2007, Vol. 10 No. 6, 48-55
Raynal Lenci Type, Feb. 2015, Vol. 18 No. 1, 18-26
Recknagel
Character Dolls of Theodor Recknagel, June 2009, Vol. 12 No. 5, 38-43
Religious Dolls
Faith-Based Dolls, Dec. 2008, Vol. 11 No 11, 34-38
Reproductions
Let the Buyer Beware, Sept, 2001, Vol. 4 No. 8, 52-55
Lee Ed - The Dolls of Leola & Edgar Schulze, December 2015, Volume 18, Number 11, 33-36 and 55-59
The Huret, An Inspired French Fashion, December 2015, Volume 18, Number 11, 45-47

Restoration
Responsible Restoration, March 2009, Vol. 12 No. 2, 48-51


Riera
The Artistry of French Mlle Riera Dolls, April 2017, Volume 20, Number 3


Rockwell, Grace Corry
Little Brother and Little Sister, Dec. 2010, Vol. 13 No. 11, 48-49
Rohmer
March 2004, Vol. 7 No. 2
A Rare Rohmer Fashion Doll, Sept. 2007, Vol. 10 No. 8, 20-22
Lilas, the Exemplary Life of a Rohmer Lady Doll, March 2010, Vol. 13 No. 2, 18-23, 46-49
The Resourceful Mind of Leontine Rohmer, Dec. 2011, Vol. 14 No. 11, 17-22
Ronnaug Petterssen
May 2011, Vol. 14 No. 4, 27-33
Rose Percy
Rose to Return to Fundraising, Jan. 2010, Vol. 12 No. 12, 58-59
Jan. 2012, Vol. 14 No. 12, 32-33
Nov. 2012, Vol. 15 No. 10, 20-24
Rose Percy, The Doll, January 2018, Volume 20, Number 12, 12-15
A Rose Blooms in the Land of Lincoln, January 2018, Volume 20, Number 12, 16-18 and 20
Rollinson, Gertrude
May 2006, Vol. 9 No. 4, 47-49
Rorstand
Rorstrand of Sweden, Feb. 2015, Vol. 18, No. 1, 28-31
Royal Copenhagen
"To be, or not to be" -- An Antique or Reissue Royal Copenhagen Doll -- "That is the question!", May 2015, Vol. 18, No. 4, 20-26
Rubber
June 2001, Vol. 4 No. 5, 42-45
Russian Dolls
Sept. 2008, Vol. 11 No. 8, 46-51
July 2012, Vol. 15 No. 2, 60-67
The Russian Bisque Doll, June 2016, Volume 19, Number 5, 37-41
Russian Matryoshka - My Stacking Doll Collection, August 2017, Volume 20, Number 7, 46-50
- S -
Sailor Dolls
July 2009, Vol. 12 No. 6, 54-56
Sasha
July 2011, Vol. 14 No. 6, 40-45

Savoie
A Glimpse at Savoie, April 2017, Volume 20, Number 3


Schlaggenwald
Part I, Sept. 2011, Vol. 14 No. 8, 35-38
Part II, Oct. 2011, Vol. 14 No. 9, 25-29
Schmitt
Schmitt et Fils, July 2008, Vol. 11 No. 6, 19-26
Schlopsnies
Albert Schlopsnies: Steiff's Creative Artist, December 2017, Volume 20, Number 11, 52-56
Schoenhut
Noel Barrett Auction, April 1999, Vol. 2 No. 54-55
Schoenhut Doll Drama, July 2005, Vol. 8 No. 6, 57-58
The Philadelphia Story Special Exhibit, Feb. 2006, Vol. 9 No. 1, 46-49
Teddy's Adventures in Africa, Oct. 2007, Vol. 10 No. 9, 40-45
Colorful Composition Novelty Dolls, April 2011, Vol. 14 No. 3, 31-33
Schoenhut Dolls, March 2009, Vol. 12 No. 2, 18-22
Clowns, Jan. 2011, Vol. 13 No. 12, 26-27
May 2012, Vol. 15 No. 4, 57-58
Selling
What Will I do about Mother's Dolls?, August 2007, Vol. 10 No. 7, 55-57
Sewing
Dolly and Her Dressmaker, Sept. 2008, Vol. 11 No. 8, 38-45
Antique Toy Sewing Accessories, Oct. 2013, Vol. 16 No. 9, 41-46
SFBJ
May 2002, Vol. 5 No. 44-47
Googlies, May 2003, Vol. 6 No. 4, 19-26
The SFBJ Story, Dec. 2004, Vol. 7 No. 11, 50-54
Early SFBJ Character Babies, April 2006, Vol. 9 No. 3, 40-44
SFBJ Character Babies From The Twenties, August 2006, Vol. 9 No. 7, 27-32
SFBJ Stuffed Cloth and Felt Dolls, April 2007, Vol. 10 No. 3, 40-44
Shell Dolls
August 2010, Vol. 13 No. 7, 26-33
Sheppard
Philadelphia Story Special Exhibit, Feb. 2006, Vol. 9 No. 1, 46-49
Shirley Temple
Rarities, April 1999, Vol. 2 No. 4, 21-23
Raynal and Venus S.T, Dec. 2003, Vol. 6 No. 11, 47-52
Composition Shirley Temple, April 2001, Vol. 4 No. 3, 26-30
Sept. 2001, Vol. 4 No. 8, 14
Collecting Shirley, Nov. 2010, Vol. 13 No. 10, 29-32
Love, Shirley Temple: Theriault's July 14 in Kansas City, MO, July 2015, Volume 18, Number 6, 51-52
Simon and Halbig
Molds 1448 and IV, April 2003, Vol. 6 No. 3, 27-31
Special Dolls to Teach a Little Princess, June 2005, Vol. 8 No. 5, 25-28
Identifying Simon & Halbig Parian Dolls, July 2006, Vol. 9 No. 6, 33-39
Simon & Halbig's 1300 Series, May 2009, Vol. 12, No. 4, 19-23
The Early Years, May 2011, Vol. 14 No. 4, 45-48
The Other 100 Series, Oct. 2011, Vol. 14 No 9, 19-23
Mold 1160, Jan. 2012, Vol. 14 No. 12, 27-31
Flapper Ladies, August 2012, Vol. 15 No. 7, 34-39
Early Dolls, Jan. 2013, Vol. 15 No. 12, 21-29
A Simon Halbig Fashion Doll, Feb. 2014, Vol. 17 No. 1, 22-26
From Elegant Edwardian to Fascinating Flapper; Mold 1469 by Simon and Halbig, April 2015, Vol. 18, No. 3, 51-55
Simonne
March 2004, Vol. 7 No. 2
Maison Simmone, July 2007, Vol. 10 No. 6, 18-23
Skookum
Nov. 2005, Vol. 8 No. 10, 57-59
Dec. 2012, Vol. 15 No. 11, 67
Small Dolls
11" and Under Toddler Dolls with Bisque Heads, April 1998, Vol. 1 No. 4, 43-47
Petite Bebes and All Bisques, Nov./Dec. 1998, Vol. 2 No. 1, 49-51
With a Dolly In My Pocket, August 2006, Vol. 9 No. 7, 19-23, 54-57
Snow Babies
Vol. 2 No. 9, 29-32

Solace, Dolls as
Felicia's Dolls… There's More to Dolls than Play, August 2016, Volume 19, Number 7, 27-30


Sonneberg
Dolls of Sonneberg, June 2011, Vol. 14 No. 5, 18-23
Spaggiari, Yvonne
Yvonne Spaggiari's Art Cloth Dolls, July 2016, Volume 19, Number 6, 40-49
Splashme Dolls
July 2008, Vol. 11 No. 8, 60-63
Statue
Manneken Pis, the World's Best Dressed Statue, October 2017, Volume 20, Number 9, 54-58
Steiff
Everything But Bisque, a UFDC Exhibit, Jan. 2004, Vol. 6 No. 12, 35-40, 64-66
Steiff's Beloved Children Felt Dolls, March 2015, Vol. 18, No. 2, 38-41
Steiff's Pressed Felt-Faced Dolls, February 2016, Volume 19, Number 1, 23-27
Steiff's Early Soldier and Police Dolls, August 2016, Volume 19, Number 7, 33-37
Albert Schlopsnies: Steiff's Creative Artist, December 2017, Volume 20, Number 11, 52-56
The Whimsical Steiff Dolls, April 2018, Volume 21, Number 3, 40-43
Steiner, Hermann
Googlies, May 2003, Vol. 6 No. 4, 19-26
Steiner, Jules Nicolas
Dec. 2003, Vol. 6 No. 11, 19-23
Vol. 1 No. 1, Nov./Dec. 1997, 34-37
Who's Afraid of Early Steiner Bebes? April 2011, Vol. 14 No. 3, 18-22
Julia - Tracing A Steiner's Past, March 2009, Vol. 12 No. 2, 24-27
Our Little Family of Steiner Dolls by Alf Ertsland, June 2015, Vol. 18, No. 5, 18-23
Strewwelpeter
Shock-Headed Peter and His Friends, March 1998, Vol. 1 No 3, 20-22
Swingers
June 2001, Vol. 4 No. 5, 47-49
- T -
Tebbetts
Misses Tebbetts, Nov. 2002, Vol. 5 No. 10, 55-57
Thuillier, Andre
June 2005, Vol. 8 No. 5, 20-23, 58-59
An A. T. & Her Wardrobe, Nov. 2009, Vol. 12 No. 10, 20-23
Toledo Doll Show
June 2012, Vol. 15 No. 5, 48
Feb. 2-13, Vol. 16 No. 1, 58
August 2014, Vol. 17 No. 7, 56-57
March 2015, Vol. 18, No. 2, 56
Toledo Doll and Bear Show, August 2015, Volume 18, Number 7, 55
Toledo Doll & Bear Show, April 2016, Volume 19, Number 3, 56
October 9, 2016 Toledo Doll & Bear Show, July 2016, Volume 19, Number 6, 61
Toledo Doll & Bear Show October 9, 2016, September 2016, Volume 19, Number 8, 60
The Toledo Doll & Bear Show, February 2017, Volume 20 Number 1, 60
Tom Thumb
Fairy Wedding, June 2003, Vol. 6 No. 5, 40-45
Topsy Turvey Dolls
May 2007, Vol. 10, No. 4, 43-45
Tours
TLC Doll Tour, Dec./Jan. 2000-2001, Vol. 3 No. 9, 49-53
Traveling in Spain with TLC Doll Tours, August 2016, Volume 19, Number 7, 53-55
Toys
Dancing at the Fair, Oct. 1998, Vol. 1 No. 8, 27-29
The Playskool Pullman, Feb. 2005, Vol. 8 No. 1, 49-52
Old Soles and Little Slippers, Dec. 2005, Vol. 8 No. 11, 43-45
Dancing Dolls, Jan. 2006, Vol. 8 No. 12, 52-54
Trowbridge, Helen Fox
Feb. 2002, Vol. 5 No. 1, 36-39
Trunks
A Doll's Trunk, Nov. 2010, Vol. 13 No. 10, 52-57
Twelvetrees
Horsman, HEbee/SHEbee and the Elusive Charles Twelvetrees, March 2015, Vol. 18, No. 2, 32-35
Two Sisters Studios
March 2010, Vol. 13 No. 2, 59
July 2010, Vol. 13 No. 6, 18
Tynietoy
Tynietoy and the Toy Furniture Shop, April 2005, Vol. 8 No. 3, 43-48
Between Friends, Dec. 2006, Vol. 9 No. 11, 28-34
The Preeminent Artwork of Tynietoy Part I, July 2009, Vol. 12 No. 6, 27-31
The Preeminent Artwork of Tynietoy Part II, Sept. 2009, Vol. 12 o. 8, 39-42
George LeClerc, April 2011, Vol. 14 No. 3, 37-42
Sept. 2014, Vol. 17 No. 8, 41
Rare and Unusual Tynietoy Furnishings, May 2015, Vol. 18, No. 4, 48-53
Rare and Unusual Tynietoy Accessories, September 2015, Volume 18, Number 8, 33-38
- U -
UFDC (listings are in chronological order)
German Characters, Nov. 2007 Vol. 10 No. 10, 19-24 and 56-61
2003 Modern Exhibit, Dec. 2003, Vol. 6 No. 11, 26-29 and 54-57
National Convention 1998, Oct. 1998, Vol. 1 No. 8, 33-40
Salesroom 1998, Oct. 1998, Vol. 1 No. 8, 51-52
Modern Exhibit, Jan./Feb. 1999, Vol. 2 No. 2, 36-38
Portraits in China, March 1999, Vol. 2 No. 3, 22-26 and 58-64
A Study of French Bebes, Nov. 1999, Vol. 2 No. 8, 23-34
Salesroom 1999, Nov. 1999, Vol. 2 No. 8, 67-69
Antique Exhibit, Vol. 2 No. 9, 47-59
Bebes - Origins of Opulence, Vol. 3 No. 1, 48-51, 64-72
Modern Exhibit, Vol. 3 No. 3, 47-50
Special Exhibits 1999, July/August 2000, Vol. 3 No. 5, 58-59
Salesroom, September 2000, Vol. 3 No. 6, 23-27
Dolls with Wardrobes, Oct. 2000, Vol. 3 No 7, 20-29
Dolls with Wardrobes, Nov. 2000, Vol. 3 No. 8, 42-46
Antique Exhibit, Dec./Jan. 2000-2001, Vol. 3 No. 9, 56-64
Modern Exhibit, Chicago 2000, Feb. 2001, Vol. 4 No. 1, 43-46, 61-62
Fifty Years of Americana Composition Dolls, March 2001, Vol. 4 No. 2,
28-31, 58-61
Salesroom, 2001, Oct. 2001, Vol. 4 No. 9, 26-31
Antique Exhibit, Nov. 2001, Vol. 4 No. 10, 30-37
Antique Exhibit, Dec. 2001, Vol. 4 No. 11, 50-55
Modern Exhibit, Jan. 2002, Vol. 4 No. 12, 47-51
Modern Exhibit, Feb. 2002, Vol. 5 No. 1, 47-50
Salesroom, Sept. 2002, Vol. 5 No. 8, 34-38
Antique Exhibit, Part I, Oct. 2002, Vol. 5 No 9, 40-47
Antique Exhibit, Part II, Oct. 2002, Vol. 5 No 10, 40-46
Modern Exhibit Part I, Dec. 2002, Vol. 5 No. 11, 31-33
Modern Exhibit Part II, Jan. 2003, Vol. 5 No. 12. 55-57
Bleuette Gathering, Feb. 2002, Vol. 6 No. 1, 25-30
Theatre de la Mode, March 2003, Vol. 6 No. 2, 52-53
Madame Alexander, Special Exhibit, April 2003, Vol. 6 No. 3, 42-46
Cabinets of Curiosities, Special Exhibit, April 2003, Vol. 6 No. 3, 55
Salesroom 2003, Sept. 2003, Vol. 6 No. 8, 27-33
Antique Exhibit, Oct. 2003, Vol. 6 No. 9, 28-32, 65-69
Antique Exhibit, Nov. 2003, Vol. 6 No. 10, 36-39, 54-58
Modern Exhibit, Dec. 2003, Vol. 6 No. 11, 26-29, 54-57
Special Exhibit, Passion for Parians, Feb. 2004, Vol. 7 No. 1, 18-26
Magical Musical Mechanicals, March 2004, Vol. 7 No. 2, 38-43
Mignonnette - Her History, Wardrobe and Miniature World, April 2004,
Vol. 7 No. 3, 46-50
R. John Wright Special Exhibit, June 2004, Vol. 7 No. 5, 27-28
Salesroom Kansas City, Sept. 2004, Vol. 7 No. 8, 52-58
Antique Exhibit, Oct. 2004, Vol. 7 No. 9, 40-49
Antique Exhibit, Nov. 2004, Vol. 7 No. 10, 44-53
Modern Exhibit, Dec. 2004, Vol. 7 No. 11, 40-47
The Hand Follows the Heart (Käthe Kruse Special Exhibit) Jan. 2005,
Vol. 7 No. 12, 40-46
More Than Just a Doll, Special Exhibit, Feb. 2005, Vol. 8 No. 1, 25-27
Hands Across the Ocean, Special Exhibit, March 2005, Vol. 8 No. 2, 46-50
Hands Across the Ocean, Special Exhibit, May 2005, Vol. 8 No. 4, 48-49
Salesroom, Sept. 2005, Vol. 8 No. 8, 27-31
Antique Exhibit, Oct. 2005, Vol. 8 No. 9, 28-33
Antique Exhibit, Nov. 2005, Vol. 8 No. 10, 22-24, 68-72
Modern Exhibit, Dec. 2005, Vol. 8 No. 11, 52-57
Wear in the World, Special Exhibit, Jan. 2006, Vol. 8 No. 12, 35-37
The Philadelphia Story Special Exhibit, Feb. 2006, Vol. 9 No. 1, 46-49
Bleuette's 100th Anniversary Special Exhibit, March 2006, Vol. 9 No. 2, 45-47
2006 Special Exhibits, April 2006, Vol. 9 No. 3, 58-60
Visiting Gail Cook, Sept. 2006, Vol. 9 No. 8, 30-35
Salesroom Dallas, Sept. 2006, Vol. 9 No. 8, 45-51
Antique Exhibit, Oct. 2006, Vol. 9 No. 9, 35-37, 58-63
The Creativity of Jumeau, Special Exhibit, Nov. 2006, Vol. 9 No. 10, 35-40
Antique Exhibit, Nov. 2006, Vol. 9 No. 10, 48-55
Modern Exhibit, Dec. 2006, Vol. 9 No. 11, 36-39, 64-68
Special Exhibits: Tell Me A Story and Alice Dolls, Feb. 2007, Vol. 10, No. 1, 54-56
Salesroom, Detroit, Sept. 2007, Vol. 10 No. 8, 25-31
Antique Exhibit, Oct. 2007, Vol. 10 No. 9, 47-54
Theme and Variations on German Character Dolls, Nov. 2007, Vol. 10 No. 10, 19-24, 56-61
Antique Exhibit, Dec. 2007, Vol. 10 No. 11, 35-39, 73-74
Modern Exhibit, Jan. 2008 Vol. 10 No. 12, 27-30, 53-56
Trousseaux for Dolls, Feb. 2008, Vol. 11 No. 1, 53-54
UFDC Salesroom Las Vegas, Sept. 2008, Vol. 11 No. 8, 26-32
Antique Competitive Exhibit Part I, Oct. 2008, Vol. 11 No. 9, 25-30
Antique Competitive Exhibit, Nov. 2008, Vol. 11, No. 10, 47-53
Antique Competitive Exhibit, Dec. 2008, Vol. 11 No. 11, 51-57
Modern Competitive Exhibit Part I, Jan. 2009, Vol. 11 No. 12, 53-58
Modern Competitive Exhibit, Part II, Feb. 2009, Vol. 12 No. 1, 43-47
In the Eye of the Beholder, March 2009, Vol. 12 No. 2, 53-56
Special Exhibits 2010, Feb. 2011, Vol 14 No 1, 59-60
Salesroom, Sept. 2009, Vol. 12 No. 829-33, 57-58
Antique Competitive Exhibit Part I, Oct. 2009, Vol. 12 No. 9. 49-58
Antique Competitive Exhibit Part II, Nov 2009, Vol. 12 No. 10, 47-57
Modern Competitive Exhibit Part I, Dec. 2009, Vol. 12 No. 11, 55-59
Modern Competitive Exhibit Part II, Jan. 2010, Vol. 12 No. 12, 62-66
Special Exhibits, Feb. 2010, Vol. 13 No. 1, 50-52
Salesroom, Chicago, Sept. 2010, Vol. 13 No. 8, 27-31
Antique Competitive Exhibit Part I, Chicago, Sept. 2010, Vol. 13 No. 8, 61
Antique Competitive Exhibit Part II, Oct. 2010, Vol. 13 No. 63-73
Blondinette Davranche, Nov. 2010, Vol. 13 No. 9, 48-49
Modern Competitive Exhibit Part I, Dec. 2010, Vol. 13 No. 11, 43-46
Lady Dolls, Dec. 2010, Vol. 13 No. 11, 62-63
Modern Competitive Exhibit, Part II, Jan. 2011, Vol. 13 No. 12, 41-
Special Exhibits, Jan. 2011, Vol. 13 No. 12, 58-59
Salesroom Anaheim, Sept. 2011, Vol. 14 o. 8, 27-31
Antique Competitive Exhibit Part I, Oct. 2011, Vol. 14 No. 9, 36-42
Antique Competitive Exhibit Part II, Nov. 2011, Vol. 14 No. 10, 46-52
Christmas Revisited, UFDC Special Exhibit, Dec. 2011, Vol. 14 No. 11, 24-30
Antique Competitive Exhibit Part III, Jan. 2012, Vol. 14 No. 12, 49-54
Modern Competitive Exhibit Part I, Feb. 2012, Vol. 15 No. 1, 53-55
Modern Competitive Exhibit Part II, March 2012, Vol. 15 No. 2, 46-48
UFDC Exhibit "Small Delights, " May 2012, Vol. 15 No. 4, 53-54
The Queen's Jubilee, Sept. 2012, Vol. 15 No. 8, 51-52
Salesroom, New Orleans, Sept. 2012, Vol. 15 No. 8, 54-57
Antique Competitive Exhibit Part I, Oct. 2012, Vol. 15 No. 9, 50-55
Antique Competitive Exhibit Part II, Nov, 2012, Vol. 15 No. 10, 50-57
Folk Art Black Cloth Doll Exhibit, Dec. 2012, Vol. 15 No. 11, 49
Ephemera Exhibit, Dec. 2012, Vol. 15 No. 11, 50-51
Modern Competitive Exhibit, Dec. 2012, Vol. 15 No. 11, 54-60
Special Exhibits 2012, Jan. 2013, Vol. 15 No. 12, 62-63
Salesroom Washington, D.C., Sept. 2013, Vol. 16 No, 8, 48-52
Antique Competitive Exhibit Part I, Oct. 2013, Vol. 16 No. 9, 49-54
Antique Competitive Exhibit Part II, Nov. 2013, Vol. 16 No. 10, 42-48
Mode Enfantine, UFDC Exhibit, Dec. 2013, Vol. 16 No. 11, 44-50
Modern Competitive Exhibit Part I, Dec. 2013, Vol. 16 No. 11, 52-54
Modern Competitive Exhibit Part II, Jan. 2014, Vol. 16 No. 12, 52-57
The Enchanting Trousseau of Chiffonnette, Feb. 2014 Vol. 17 No. 1, 36-37
Ribbons: A Competition Experience, March 2014, Vol. 17 No. 2, 49-52
Lettie Lane & Friends, March 2014, Vol. 17 No, 2, 56-57
Salesroom San Antonio, Sept. 2014, Vol. 17 No. 8, 49-53
Antique Competitive Exhibit, Oct. 2014, Vol. 17 No. 9, 45-52
Modern Competitive Exhibit, Nov. 2014, Vol. 17 No. 10, 61-66
The Many Faces of German Dolls, Jan. 2015, Vol. 17 No. 12, 54-59
UFDC Special Exhibits, March 2015, Vol. 18, No. 2, 54-55
UFDC National Antique Competitive Exhibit Blue Ribbon Winners - Part I, September 2015, Volume 18, Number 8, 47-51
A Dream Come True UFDC National Salesroom, September 2015, Volume 18, Number 8, 53-56
A Dream Come True - The UFDC's Research and Archival Library and Museum, October 2015, Volume 18, Number 9, 49-53
UFDC National Antique Competitive Exhibit Blue Ribbon Winners - Part II, October 2015, Volume 18, Number 9, 55-60
UFDC National Modern Competitive Exhibit Blue Ribbon Winners - Part I, November 2015, Volume 18, Number 10, 47-51
UFDC National Modern Competitive Exhibit Blue Ribbon Winners - Part II, December 2015, Volume 18, Number 11, 49-53
2015 UFDC Special Exhibits Kansas City, MO, January 2016, Volume 18, Number 12, 54-55
UFDC Convention Salesroom July 27-July 30, September 2016, Volume 19, Number 8, 52-56
2016 UFDC Competitive Exhibits – Part I, October 2016, Volume 19, Number 9, 47-54
2016 UFDC Competitive Exhibits - Part II, November 2016, Volume 19, Number 10, 45-48
2016 UFDC Competitive Exhibits – Part III, December 2016, Volume 19, Number 11, 36-41
2016 UFDC Special Exhibits Part 1, January 2017, Volume 19, Number 12, 56-57
2016 UFDC Special Exhibits Part 2, February 2017, Volume 20 Number 1, 52-53
UFDC Convention Salesroom Show Report, September 2017,Volume 20, Number 8, 49-51
Blue Ribbons awarded at UFDC's 2017 Competitive Exhibition Part 1, October 2017, Volume 20, Number 9, 32-37
Les Petites Bébés Français a 2017 UFDC Special Exhibit, October 2017, Volume 20, Number 9, 22-29
UFDC's 2017 Competitive Exhibition Part 2, November 2017, Volume 20, Number 10, 34-38
UFDC's Competitive Exhibition Part 3, December 2017, Volume 20, Number 11, 57-61
UFDC's Competitive Exhibition Part 4, January 2018, Volume 20, Number 12, 22-26
2017 UFDC Exhibit: Toy Shop Windows, March 2018, Volume 21, Number 2, 42-45

Urika
Dolls by Madame Ulrych, Jan. 2010, Vol. 12, No. 12, 47-52
- V -
Valentines
Valentine, Be Mine, Feb. 2006, Vol. 9 No. 1, 19-25
Valentines and Old Lace, Feb. 2011, Vol. 14 No. 1, 18-22
Venus
Raynal and Venus Shirley Temple, Dec. 2003, Vol. 6 No. 11, 47-52
Venus French Cloth Dolls, Jan. 2007, Vol. 9 No. 12, 18-25
Verdier & Gutmacher
April 2010, Vol. 13 No. 3, 44-45


Vichy, Henry
What Henry Did Next: Henry Vichy (1866 - 1950), April 2015, Vol. 18, No. 3, 19-24


Virga
Schiaparelli, July 2010, Vol. 13 No. 6, 32-37
Virgin Mary
Images of the Virgin, Dec. 2005, Vol. 8 No. 11, 29-33
A Manhattan Manikin, Dec. 2006, Vol. 9 No. 11, 59-61
Vogue
Vogue's Early Dolls, March 2002, Vol. 5 No. 2, 48-51
The Early History of the Vogue Ginny Dolls, August 2015, Volume 18, Number 7, 27-31
- W -
Walker, Izannah
Ragtime II, Vol. 1 No. 1, Nov./Dec. 1997, 21-26 and 51-56
Endearing Dolls, Enterprising Women, July 2003, Vol. 6 No. 6, 22-27
April 2004, Vol. 7 No. 3, 29-32
Miss Mary, March 2006, Vol. 9 No. 2, 19-27
Dec. 2010, Vol. 13 No. 11, 35-39
An Izannah Walker Reunion, August 2011, Vol. 14 No. 7, 27
Feb. 2013, Vol. 16 No. 1, 18-25
A Visit to an Izannah Home, August 2015, Volume 18, Number 7, 43-48
Izannah Walker and Her Dolls, September 2017,Volume 20, Number 8, 22-34
"Izannah Aprons," A Closer Look, September 2017,Volume 20, Number 8, 39-41
A Holiday Visit to the Izannah Home, December 2017, Volume 20, Number 11, 28-32
Izannah Dreaming, March 2018, Volume 21, Number 2, 20-25
The October 2017 Exhibit of Izannah Walker Dolls at the Jenny Lind Doll Show, March 2018, Volume 21, Number 2, 28-34
Walking Dolls
Being A Doll Detective, June 2010, Vol. 13 No. 5, 37-40
Wardrobes
Dolls with Wardrobes, Oct. 2000, Vol. 3 No 7, 20-29
Dolls with Wardrobes, Nov. 2000, Vol. 3 No. 8, 42-46
Dolls and Their Trunks, May 2003, Vol. 6 No. 4, 47-50
Creating A Wardrobe for the Empress Eugenie, Jan. 2006, Vol. 8 No. 12, 19-25
The Trousseau Doll at De Kleine Wereld Museum, June 2009, Vol. 12 No 5, 19-22
Carrie A. Hall Fashion Mannikin Wardrobe, Dec. 2012, Vol. 15 NO. 11, 36-40
Miss Winnie, Dec. 2013, Vol. 16 No. 11, 19-23
Edwardian Lady Dolls and Their Wardrobes, April 2014, Vol. 17 No. 3, 19-23
A Poupee's Exquisite Wardrobe, March 2017, Volume 20, Number 2, 28-32 and 56-59
Wax
English Poured Waxes, May/June 1999, Vol. 2 No. 5, 41-45
Lillie, May/June 1999, Vol. 2 No. 5, 47-48
Vol. 3 No. 2, 42-48
Mechanical Wax Dolls, Sept, 2000, Vol. 3 No. 6, 63-67
Amelia, Oct. 2000, Vol. 3 No. 7, 46-48
A Century of Wax Dolls, Dec. 2002, Vol. 5 No. 11, 37-42
The Allure of Wax, May 2003, Vol. 6 No. 4, 35-41
Remarkable Rose, May 2005, Vol. 8 No. 4, 26-31
The Incomparable Ethel Newcome, Feb. 2006, Vol. 9. No. 1, 37-42
Donald Dent, The Story Of An Early Wax Doll, May 2006, Vol. 9 No. 4, 51-55
A Tale of Two Dolls, June 2006, Vol. 9 No. 5, 41-43
Wax Dolls of the English Royal Family, July 2007, Vol. 10 No. 6, 42-45
Civil War Era Fundraiser Comes Out of Retirement, Feb. 2011, Vol. 14 No 1, 24-26
Emmeline and Constance, Dec. 2009, Vol. 12 o. 11, 61-63
Rose Percy to Return to Fundraising, Jan. 2010, Vol. 12 No. 12, 58-59
Rose Percy, Feb. 2011, Vol. 14 No. 1, 24-26
August 2014, Vol. 14 No. 7, 44-46
Kestner Exhibit, April 2012, Vol. 15 No. 3, 18-25
Tilly, a Wax-Over, Jan. 2013, Vol. 15 No. 12, 32-34
A Special Child Wax Mannequin, Sept. 2013, Vol. 16 No. 8, 19-22
King Edward VII and Queen Alexandra through the eyes of Charles Ernest Pierotti, February 2016, Volume 19, Number 1, 18-21
English Poured Wax Baby Dolls, July 2016, Volume 19, Number 6, 25-30
Little Treasures In Wax, September 2016, Volume 19, Number 8, 30-39
The Mannequins of Pierre Imans, November 5, 2016, October 2016, Volume 19, Number 9, 28-35
Bertha Palmer - American Royalty - Social Queen of the City, February 2017, Volume 20 Number 1, 56-57
Elegance in Miniature Wax, May 2017, Volume 20, Number 4, 36-39
Post War Dolls -- Frau Margarite Uebel, July 2017, Volume 20, Number 6, 46-49
Rose Percy, The Doll, January 2018, Volume 20, Number 12, 12-15
A Rose Blooms in the Land of Lincoln, January 2018, Volume 20, Number 12, 16-18 and 20
Webb
Oh What A Tangled "Webb" We Weave, July 2016, Volume 19, Number 6, 32-37
Wedding Cake Toppers
June 2001, Vol. 4 No. 5, 31-36
Wedding Dolls
Theriault's Preview, Nov. 2005, Vol. 8 No. 10, 49-53
Wellington, Martha
July 2003, Vol. 6 No. 5, 24
Wilmington Ohio Show
Wilmington Ohio Show, December 2017, Volume 20, Number 11, 33-34
Wislizenus
Two German Christmas Dolls from 1903, Dec. 2008, Vol. 11 No. 11, 47-49
Witches
Goodie Cole Doll, Oct. 2009, Vol. 12 No. 9, 45-46
Wislizenus, Adolf
Other 100 Series, Oct. 2011, Vol. 14 No 9, 19-23
Wood
Clapham Doll Collection, Nov./Dec. 1998, Vol. 2 No. 1, 19-24
Wood Beauties, Jan./Feb. 1999, Vol. 2 No. 2, 20-24
Peggy Lancaster's Wonderful Wooden, March 1999, Vol. 2 No. 3, 31-35
Amalia, Vol. 3 No. 1, 21-25
An Australian Perspective, Nov. 2000, Vol. 3 No. 8, 21-26
Crepereia's Doll - A Roman Mystery, Nov. 2001, Vol. 4 No. 10, 39-42
The Heart of the Tree - Whyel Museum, Oct. 2002, Vol. 5 No 9, 22-27
Long Ago and Far Away (Sister Elizabeth), March 2005, Vol. 8 No. 2, 36-41
German Woodens: The Splendor of Sisi, July 2005, Vol. 8 No. 6, 20-24
Isabella - A Self Portrait, July 2006, Vol. 9 No. 6, 22-28
Les Poupees Royales, May 2007, Vol. 10 No. 4, 30-35, 56-57
Present from the Past, April 2008, Vol. 11 No. 3, 53-56
Those Kentucky Ladies, Oct. 2008, Vol. 11, No. 9, 47-54
Varieties of Creche Figures, Dec. 2009, Vol. 12 No. 11, 49-53
April 2010, Vol. 13 No. 3, 47-49
The Story of a Wooden Doll, Dec. 2010, Vol. 13 No 11, 24-26
Dec. 2010, Vol. 13 No. 11, 35-39
Miss Love's Dolls, August 2011, Vol. 14 No. 7, 33-39
Heimatsmuseum in Oberammergau, Nov, 2014, Vol. 17 No. 10, 58-59
Elisabeth Pongratz' Collectible Art Dolls, June 2017, Volume 20, Number 5, 14 and 16
Worsted Dolls
Vol. 3, No. 2, 50-52
WPA
Milwaukee WPA, Nov. 2007 Vol. 10 No. 10, 41-46
The Dolls Everyone Wanted To Forget, March 2015, Vol. 18, No. 2, 24-29
Wright, R. John
UFDC Exhibit, June 2004, Vol. 7 No. 5, 27-28
The R. John Wright Brownies, May 2016, Volume 19, Number 4, 27-28
An Artist Collects, August 2016, Volume 19, Number 7, 20-24